Many moons have passed since my last post, and not without reason. It was nearly seven months ago that I wrapped up my research in Kyrgyzstan and returned to the U.S., and yet, hardly a day goes by that I don't reflect wistfully on my time in Central Asia. I miss a lot of things about Kyrgyzstan: I miss the view of the Tien Shan mountains from my apartment windows, especially early in the morning when the peaks are drenched in orange sunlight; I miss my landlady, Irina, who eagerly embraced the role of surrogate mother, ensuring that my apartment remained a toasty 80 degrees year-round (for as any self-respecting khozyayka knows, insufficient insulation gives rise to most maladies, from cancer to schizophrenia); I miss the creaky old trolleybuses, their electrical wires dangling precariously from the ceiling, but hand-strung tinsel decorations intact; I miss my friends at the Osh Bazaar, with whom I passed many an hour in idle conversation; I miss Bishkek's imposing public buildings, especially the less trafficked ones that are slowly falling into disrepair; I miss the reckless cab drivers, who would sometimes accept payment in chistye Amerikanskie sigarety (a truly global currency); I miss the saccharine Russian earworms (and their accompanying music videos) that seem to play on a 24-hour loop on every radio and TV in the city; hell, I even miss the Russian language, which is something I never thought I'd admit.
In a more abstract sense, though, I miss the exhilarating, all-enveloping, utterly exhausting sensory stimulation that's only really attainable in a completely unfamiliar place—the "traveler's high" to which so many adventurers, myself included, are so hopelessly addicted.
That's not to say that my time back in the US has been unfulfilling; quite the opposite, in fact: I have a fantastic job working on really cool map stuff, a new city to explore (Washington DC), and a burgeoning social community with which to explore it. But there's no doubt that the types of experiences and interactions that I thrived off of in Kyrgyzstan—and that I previously used this space to document—just aren't as common here as they are in Central Asia, and I've struggled to find my voice in this disarmingly comfortable environment. So when fate presented me with a ten-day vacation over the Christmas period, I immediately, almost instinctively, began searching for a means to re-engage those senses that I'd allowed to atrophy over the past half-year. One thing led to the next, and within a couple of days, I'd booked a flight to Ecuador.
How I settled on this country is not particularly important—or interesting, for that matter, as it really just boiled down to cost and convenience. But it is no coincidence, I suppose, that Ecuador and Kyrgyzstan share several common qualities: both countries boast remarkable ecological and geological diversity, despite their small sizes; both countries present ample opportunities for both urban exploration and outdoor adventure; and both countries have endured prolonged periods of foreign colonial rule and authoritarian governance—all characteristics that tickle my curiosity. I knew that I would have neither the time nor the coin to travel extensively throughout the country, so I decided to focus my stay on the highlands of the Andes Mountains, which run like a zipper down the middle of the country, separating the coastal plains from the Amazon Basin.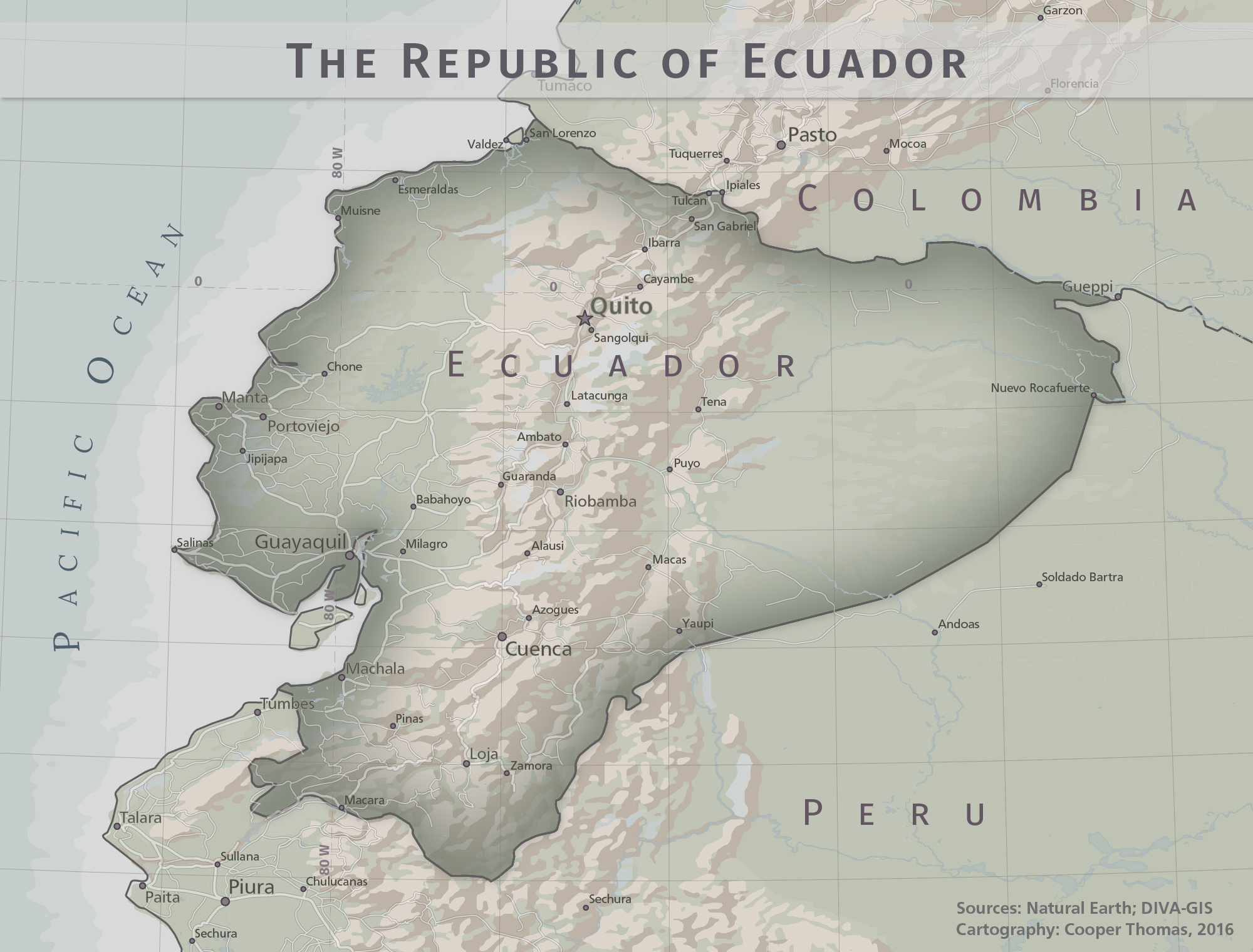 To be completely honest, I have neither the desire nor the patience to write up a full report of my trip. But I do want to share one little story from my time in Ecuador: getting mugged at knifepoint on my last full day in the country. It's not a particularly pleasant story, obviously, and it's definitely not representative of my entire trip, which was otherwise absolutely fantastic (you can see some pretty photos here if you haven't already). But it's also the most exciting thing that happened to me in Ecuador, and I already wrote up an abridged version of the story in an email I sent to my folks a few hours after the incident. What follows is a transcription of that email, edited slightly for grammar and clarity. But first, a sunset photo of Quito, just to set the scene: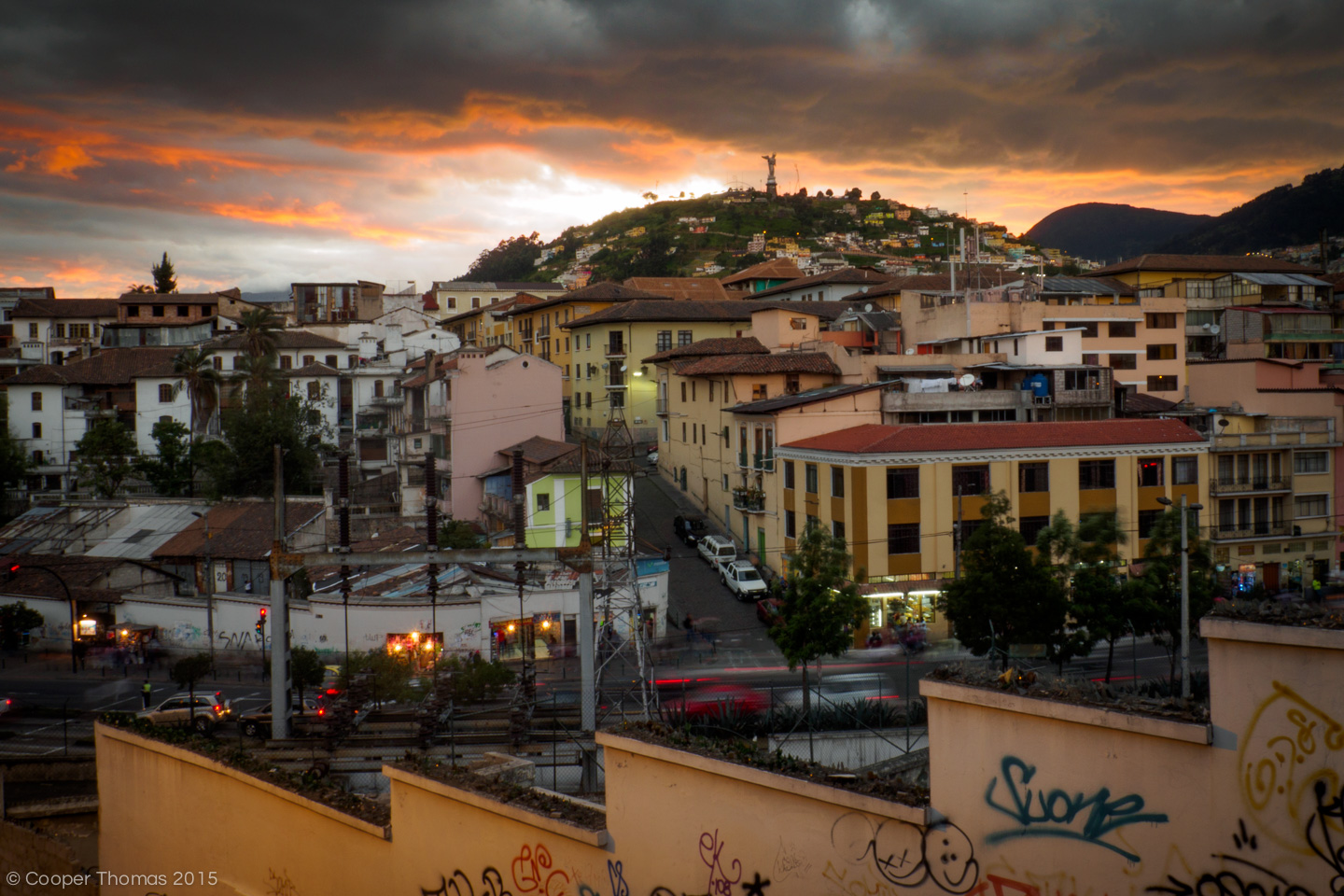 * * *
Here's a short version of what happened: I took an overnight bus from Cuenca last night, and arrived at my hostel in Quito at around 5:00 am this morning. Hungry, tired, and sore—I hadn't been able to extend my legs on the bus—I was eager for a hot shower and a cup of coffee. The hostel's outer door was locked, so I rang the bell. Nothing. I waited 30 seconds, and rang the bell again. Still nothing. The streets were almost completely empty, and I began to feel slightly anxious and exposed. The sun was beginning to rise, though, casting soft light onto the old buildings opposite, so I grabbed my phone out of my zippered coat pocket and and snapped a few pictures, before sliding it back into my sweatpants.
I continued to ring the bell, and although I could hear its shrill screech from outside, I sensed no other signs of movement.
After about ten minutes, two young guys approached me, and asked if I had any money for the bus. I told them I didn't. Instead of continuing on their merry way, however, they just kinda stood there for a minute, eyeing me up and down. I started to get a bad feeling, and told them they should leave because I didn't have anything for them and wasn't in the mood for casual banter. They reluctantly sauntered off in the direction from which they'd come, casting sinister glances back at me over their shoulders. I rang the bell again, twice.
Six or seven minutes passed, and the same two fellows walked past me again, on the opposite side of the street this time, watching me all along. As they rounded the corner, I rang the bell again, feeling more and more uneasy with each passing minute. I looked around, but there was no one else on the street, save for a single bus screeching to a halt about two blocks away. I briefly thought about shouldering my duffel and walking to a more visible location, but before I could take action, the two guys came flying back around the corner, jogging straight toward me. I immediately got a horrible feeling in the pit of my stomach.
One was brandishing a box cutter, while the other had his hand in his sweatshirt, fingers lamely pointed like a gun. As they approached, I shouted at them to stay away, but they were already upon me. The fellow with the box cutter raised his knife toward my face and simultaneously slipped his hand into my pockets, grabbing my cell phone and about $3 in loose change—everything else was safely tucked away in my zippered pockets and money belt (yeah, I wore a money belt, get at me). At the same time, the other guy, snatched my backpack from out of my arms and shouldered it in one deft move. They both took off running in opposite directions. The whole altercation had lasted maybe five seconds.
Without thinking, I started yelling for help at the top of my lungs, and instinctively sprinted after the guy with my backpack. Although my passport, credit cards, and other essentials were all safely stashed away, I was furious that I might lose my camera—and with it, all the photos I'd taken taken on the trip. The guy had a good head start on me, but fueled by panic and adrenaline and spring-loaded legs, I quickly closed the distance between us, shouting bloody murder all the while. Rounding a corner, I spotted a pedestrian several yards ahead and bellowed at him to do something. He gingerly extended a leg to trip the fleeing thug, but my foe just jogged around it. I continued to gain ground, and just as I was about to reach him, he flung my bag to the ground and continued sprinting away.
Relieved but still totally wired, I snatched up my bag from the ground, and was about to resume pursuit of the assailant only to realize that I'd now left my duffel completely unoccupied on the sidewalk in front of the hostel. Frustrated, I let loose a string of grammatically incorrect expletives, spun around, and retreated to the hostel. I never saw either of the hooligans again.
I'd evidently caused quite a ruckus, as by now a few people were peering out of second-floor balconies and chatting amongst themselves. Still panting and seething with rage, I leaned on the hotel buzzer, and finally, after a few seconds, the door opened up, and a bleary-eyed, tracksuited guy appeared behind it. I was pretty exasperated, and so I gave him an earful of my thoughts, in English and Spanish and then in English again. He bashfully pulled open the door, now presumably well aware of what had happened. I reckon he'd just slept through the buzzer. I stormed up to my room, face planted onto my bed,and wallowed in self-pity and anger until I fell asleep.
Later in the morning, I filed a police report at a tourism security/information booth off the main square (the fact that you can do this at a tourism kiosk testifies to the frequency with which this happens, I guess), but the attendant breezily told me to abandon any hopes of recovering my phone—especially if I intended to catch my outbound flight at dawn the next morning. Frustrated and disappointed, I moped about for most of the morning, and then spent the rest of the day until now reading my book at the Guayasamin museum (actually one of my Quito highlights—or would be, if I were't in such a foul mood).
The whole thing's been replaying in my head over and over, and I'm unfairly angry at myself for not stashing my phone somewhere safer at the first whiff of trouble. I'm also very upset with the hostel staff for leaving me locked out on the street for thirty minutes, and I told them straight up that I'm going to leave a negative review, which is about the most I can do. (Is that unfair? They knew I'd be arriving early in the morning…)
I guess I should be glad that I'm unhurt, and that the damages were limited to just my phone and a camera lens that cracked when the thug threw my backpack to the ground (I didn't discover this until an hour or so after the fact, triggering a second wave of fury). Still, the whole thing was pretty traumatic, and I'm afraid that this experience might mar my memories of the trip, or at least leave a sour taste in my mouth. Getting robbed sucks!
* * *
So, there you have it. Getting robbed sucks. But while my initial anger is pretty palpable in that email, it didn't take me long to realize that a) this could've happened in literally any other city in the world, and that b) I could've ended up a whole lot worse off. I'm actually embarrassed to admit that in the immediate aftermath of the ordeal, I felt so much hate toward those two guys that I almost wanted to encounter them on the street again so that I could show them what-for (horrible idea, obviously). I've since determined that it's far more productive to simply entertain the possibility (however remote) that these fellows were driven to such violence by circumstances well beyond their control—and that my phone might help alleviate their plight. In any case, I got a good story out of the incident—one that I'll probably laugh about in my old age. I'm already laughing about it, come to think of it.
To bring things full-circle, I should mention that my trip to Ecuador, though brief, did temporarily sate my appetite for adventure. From the diesel-choked alleys of Quito to the Martian landscapes of the Quilotoa Crater to the otherworldly Inca ruins at Ingapirca to the laidback colonial vibes of Cuenca, I covered a lot of ground in ten days, and returned to the U.S. mentally drained but buzzing with residual excitement. But this trip by no means extinguished my chronic wanderlust, and it's only a matter of time before I hit the road again. Sadly, I'm not sure when that will be, as my as my vacation time is sorely limited (as well as my disposable income). I do have a sizable backlog of unfinished posts from Kyrgyzstan, however, which I intend to polish and share with you in the interim. Stay tuned for more.