Warning: this post is a bit more pedantic than most, so if you're usually just here for the photos, you might want to take a look at my recent galleries from Kazakhstan, Uzbekistan, and Iran.

Maps are, and always have been, wielded as instruments of power. Today, cultural geographers and cartographers agree that the influence of maps stems from their visual manipulation of geographic realities. Maps act on their viewers' fundamental understandings of the world – they do not merely transmit knowledge, but they produce knowledge. In fact, maps actively affect the political, cultural, and economic relations of the people and places that they depict. Though epistemology (and more specifically, the production of knowledge) is an inherently esoteric topic, and one that I'm in no way qualified to discuss at any great length, I have observed that we often underestimate the degree to which maps influence our perceptions of, and interactions with, the world around us.
Case in point: yesterday, I read an interesting article about an ongoing border dispute in Southeast Asia. Vietnam has long claimed sovereignty over a chunk of territory that lies along the Cambodia border. In Cambodia, however, a major opposition party claims that the incumbent government inadvertently forfeit this territory because it was using inaccurate maps of the region. This claim has grown into a pillar of the party's political platform. In July, incumbent Cambodian PM Hun Sen implored the United Nations to loan a series of historic maps of the region, usually locked away in the UN library, to help resolve this dispute. Last week, the UN agreed to this request, tacitly acknowledging the maps' capacity to serve as an arbiter – and, by extension, a rhetorical tool for political gains. And finally, yesterday, Sen used the UN's maps to successfully disprove the opposition candidates' claims that his government was complicit in the land transfer. This settlement might well compromise the opposition's abilities to mount a successful political challenge in the next election cycle.
This isn't the first time maps have been used to settle border disputes. What's interesting, however, is that there's no global cartographic authority – the UN is just one of a handful of organizations, public and private, producing credible global atlases. A couple years ago, I cam across an NYTimes piece called "The First Google Maps War." The piece, written by map aficionado Frank Jacobs, examines how Google Maps' border demarcations nearly triggered a Central American war in 2010. In the past few years, Google Maps has become one of the world's leading purveyors of reference maps. But the company, ever aware of its political influence and keen to affirm its neutrality, has adopted several different methods for handling known territorial disputes. For example, it often uses dashed lines to trace unstable borders (such as the one shared by India and Pakistan) or to encircle contested territories (e.g., the Golan Heights). It sometimes affixes multiple labels to single features (such as the Persian/Arabian Gulf, as viewed in Google Earth). And in rare cases, it actually omits the labels of disputed territories, and prevents these names from appearing in map search results (as is the case with the Senkaku/Tiaoyutai islands in the East China Sea – try finding them!).
While these methods are effective insomuch as they demonstrate Google's professed neutrality, the mapmakers' most effective – but also, I think, most controversial – method of conflict avoidance is to show implicated parties exactly what they wish to see, even if this means producing multiple maps of a single area. What do I mean by this? Consider Google's delicate handling of the ongoing territorial dispute over Arunachal Pradesh. For decades, both China and India have claimed this mountainous region as their own. In order to appease both parties, Google has created two maps of the region: one that depicts Arunachal Pradesh as a Chinese territory, and one that depicts Arunachal Pradesh as an Indian state. Depending on the viewer's geographic location, s/he will see one map or the other: either the Sino-sympathetic map replete with Chinese place names, or the Indian version that depicts Arunachal Pradesh as an Indian state. Check out the two screen captures below, which I grabbed from the Chinese and Indian versions of Google Maps earlier today: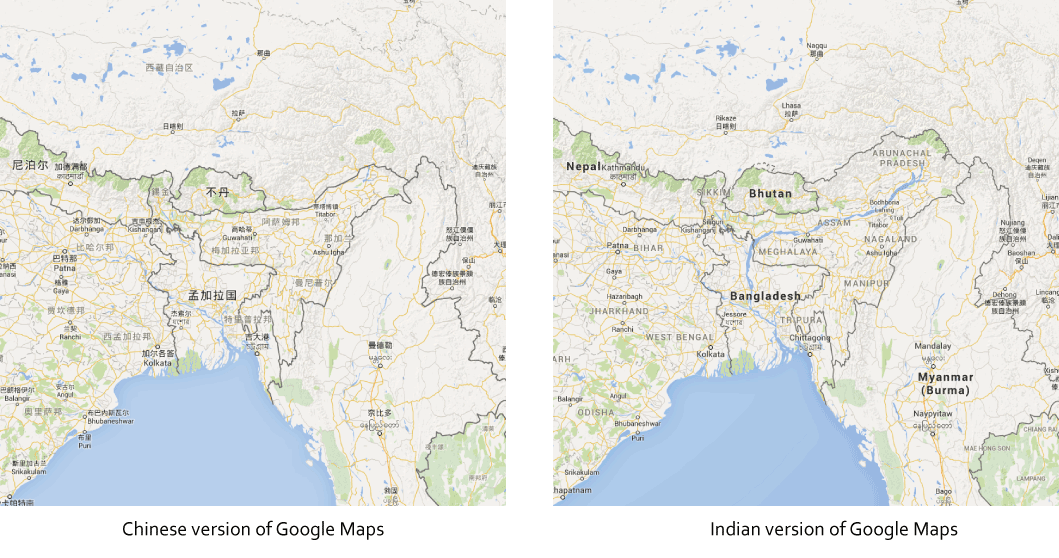 Does this clever deception qualify as neutrality? It seems to me that this bold approach will only succeed so long as both parties remain in the dark. Should the truth about Google's cartographic inconsistencies emerge, the mapmakers may find themselves trapped in a political crossfire.
Other cartographic organizations choose to represent all (or most) territorial claims, embedding their impartiality into the very maps. Yesterday, I had the privilege of speaking with several members of National Geographic's Cartographic Standards Board at the organization's headquarters in Washington, D.C. They told me that since Nat Geo is an apolitical, non-profit organization, it seeks to depict the current situations on the ground, to the best of its abilities. However, they also acknowledged that in some circumstances, border demarcations can be so fluid and dynamic that it's virtually impossible to keep the maps appropriately updated – especially with print atlases, which aren't published as frequently as online maps. The organization draws on a vast array of authoritative sources, including the UN, the EU, local governmental organizations, and even some commercial data purveyors. But given the vast circulation of the organization's maps, someone's always unhappy. With great power comes great responsibility, and reference cartographers are kept busy year-round, monitoring political situations and ensuring that their map data remains as up-to-date as possible. It's an extraordinarily delicate task, laden with ethical dilemmas. And it's one that we often overlook when we glance at an atlas.