For fans of brutalist architecture, socialist-realist art, monumental statues of Soviet statesmen and war heroes, and oddly placed MiG fighter jets, the streets of Bishkek offer enough interesting sights to occupy a good amount of time (in my extreme case, a full year). However, Kyrgyzstan did not earn the nickname "the Switzerland of Central Asia" for its capital city's architectural, uh, idiosyncrasies. Rather, Kyrgyzstan owes this epithet to the strikingly beautiful mountains that cover some 80 93 percent of the country. On clear days, I can easily make out the spiky white peaks of the Kyrgyz Ala-Too range from the comfort of my living room. This 13,000-foot-tall wrinkle of mountains – an extension of the formidable Tien Shan range – lies just 20 miles from downtown Bishkek. This oversized and overgrown backyard offer visitors and locals alike a convenient escape from the city. The mountains also make for a stunning backdrop (you can kind of see them in the photo below). I definitely won't tire of the view.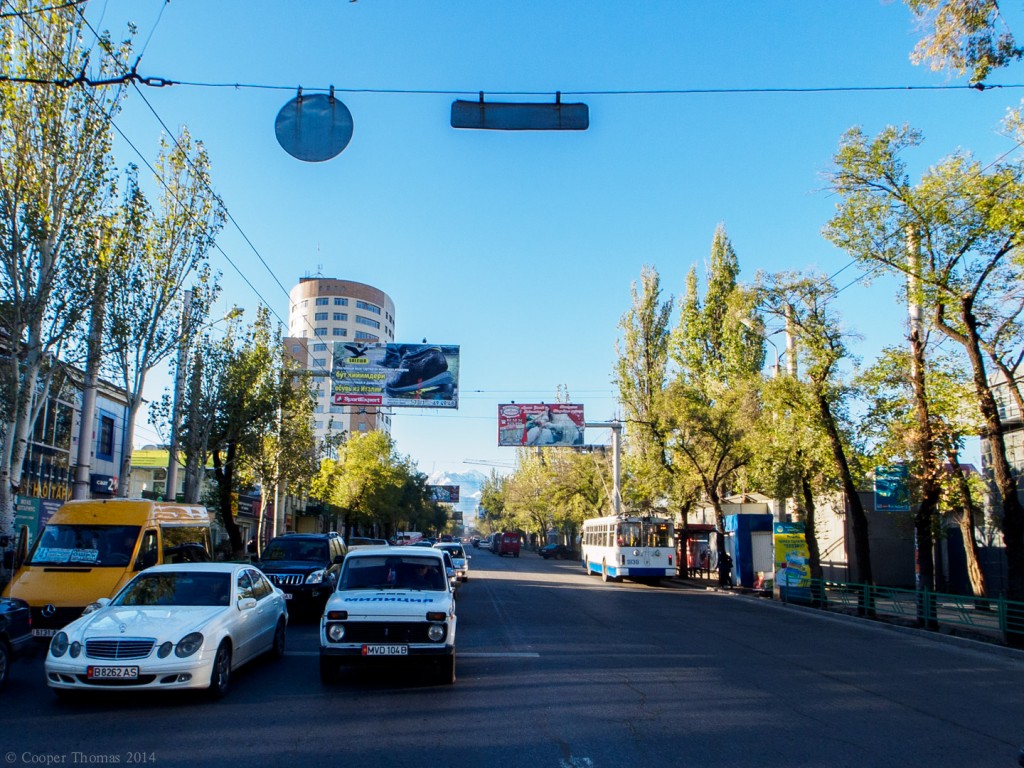 One of the first things I did after arriving in Bishkek was join the Trekking Union of Kyrgyzstan (TUK), a small but enthusiastic outfit that organizes weekly day trips and longer overnight treks into the mountains, valleys, and jailoos (summer pastures) outside of Bishkek. A couple Saturdays ago, I went on my first trip with the Union: a daylong excursion to Alamedin Valley, a dramatic gorge that slices through the Ala-Too Mountains.
My fellow hikers and I met at the TUK office at around 7:45am on the appointed day. (Fortunately, I live just a few blocks from the office, and so I didn't have to wake up too unreasonably early.) There, we boarded a rented marshrutka (one of the ubiquitous minibuses that haul passengers around the city at breakneck speeds) and headed out of the city. Accompanying me were a few international students studying at the American University of Central Asia, their local program coordinator (a young Kyrgyz guy), a German girl, and a reticent middle-aged Russian woman who scowled at me every time I looked in her general direction. Our guide was a cheerful, gold-toothed Kyrgyz man of about 60 who wore ill-fitting cargo pants and a boonie hat. My kinda guy.
As we rolled out of the city, the mountains looming ever-closer, we introduced ourselves and made small talk. Before I knew it, the marshrutka was bumping along a dirt road, flanked by a frothing opalescent river on one side, and a shadowy peak on the other. We presently hopped out of the van, and began our ascent into the valley.
Some 800 meters down the trail (or up it, rather), we came across a precarious pedestrian bridge spanning the same river I'd observed from the window of the marshrutka. The "bridge" – for in purely structural terms, the word "bridge" seems awfully generous – was constructed from three bent, rusted, and unsupported 4-inch pipes half-assedly covered with a metal lattice. A slack cable served as a handrail, but while it was situated at an ideal height for your average Kyrgyz trekker, it only rose to my knees.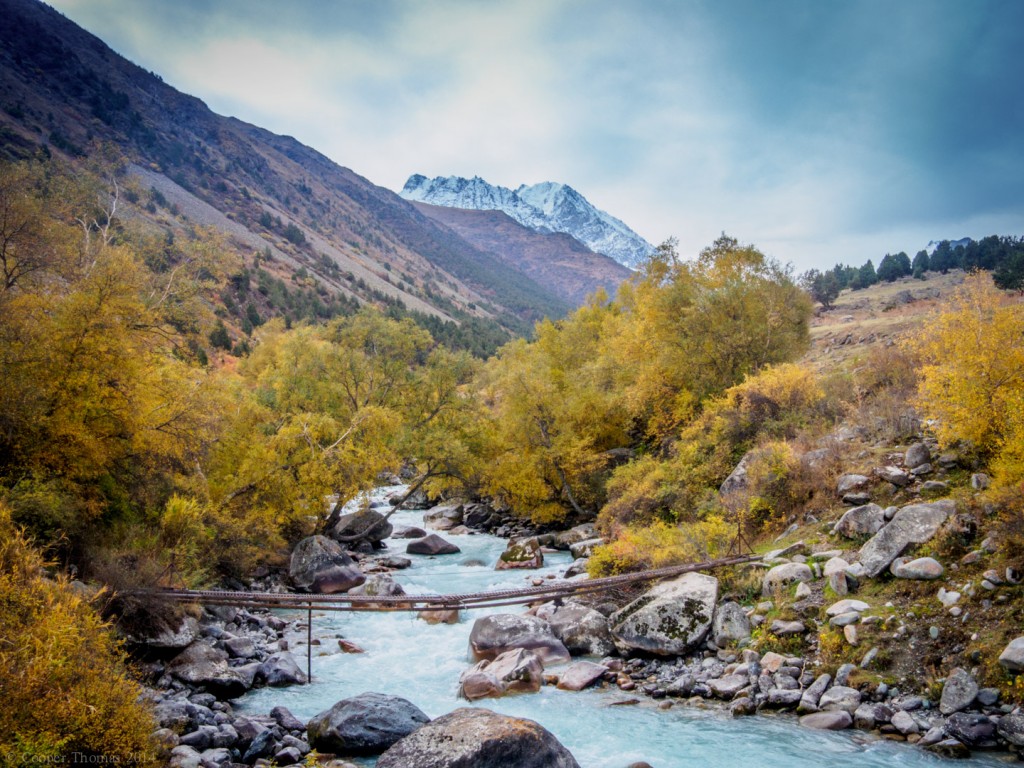 Our guide nimbly hopped across the bridge, turned around, and enthusiastically waved us over from the other side, some 50 feet away. One by one, we followed his lead, exercising considerably more caution than he had. I had lingered behind to take some photos, and so I was the last one to cross. Everyone watched as I hoisted myself up onto the bridge and gingerly picked my way across the pipes. Every couple of steps, the pipes shifted beneath my feet. As I reached the other side, I exhaled a big sigh of relief.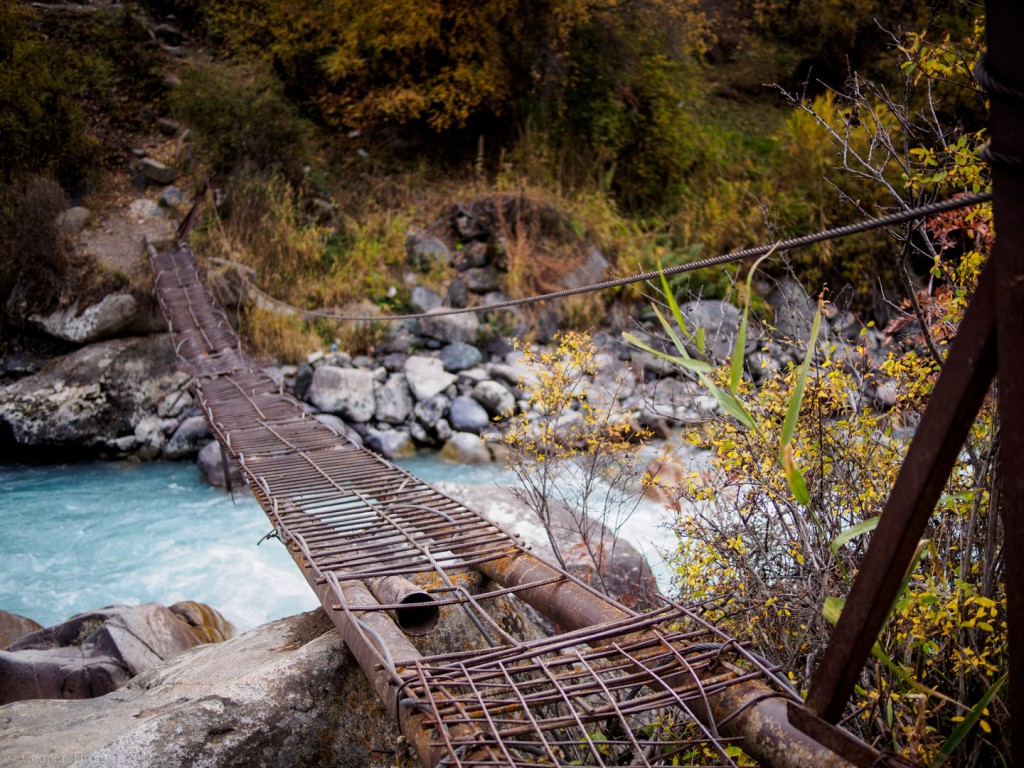 We continued deeper into the valley, passing through pastures, rock fields, and colorful birch copses. The trees' red, orange, and yellow leaves reminded me a bit of fall in New Hampshire. Every now and again, we passed the skeletal remains of a yurt – presumably placed to remind passersby that they're not in Switzerland. The sky had been overcast for most of the morning, but now, the sun began to peek through the clouds. Directly ahead of us, Usechenko Peak extended some 15,000 feet into the sky, casting a long shadow onto one of the valley walls. From our vantage point in the valley, the mountain seemed absolutely colossal.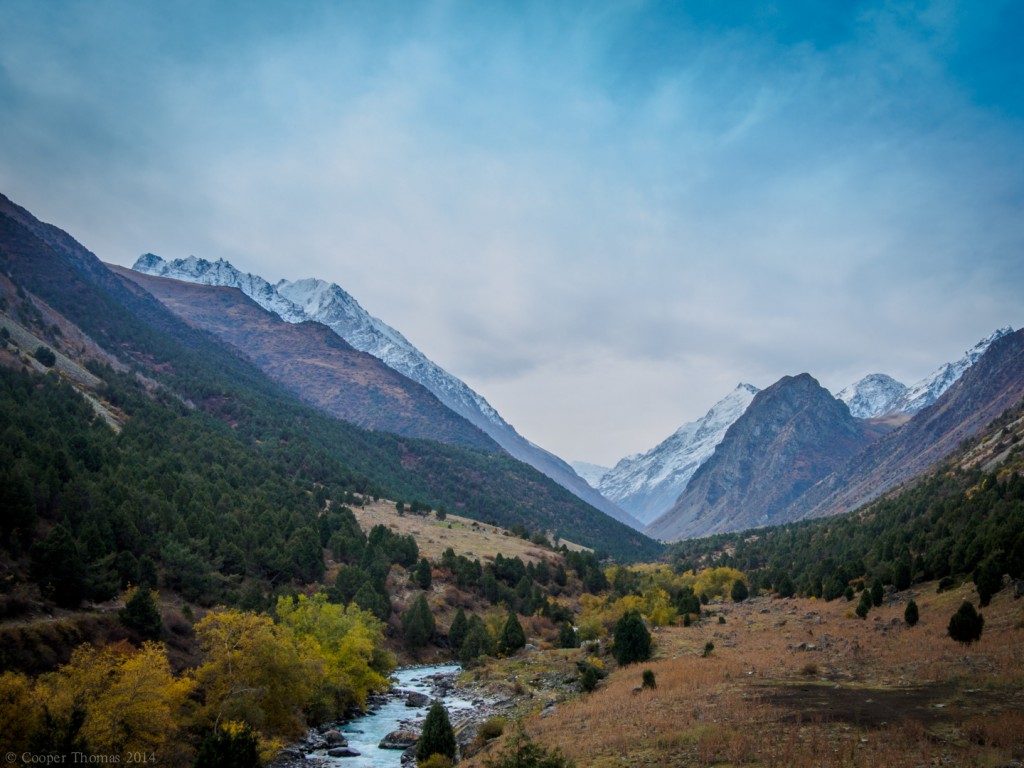 Eventually, we began to work our way up the side the valley. After a few minutes, we came across a narrow grassy pasture, and a small herd of curious horses hobbled over to sniff us out. Among them were three or four foals, just a few months old. None of the horses had any markings, but I suspected that they belonged to someone; Kyrgyz herders often let their animals roam freely over large swaths of land, rounding them up only to make a sale (or a meal).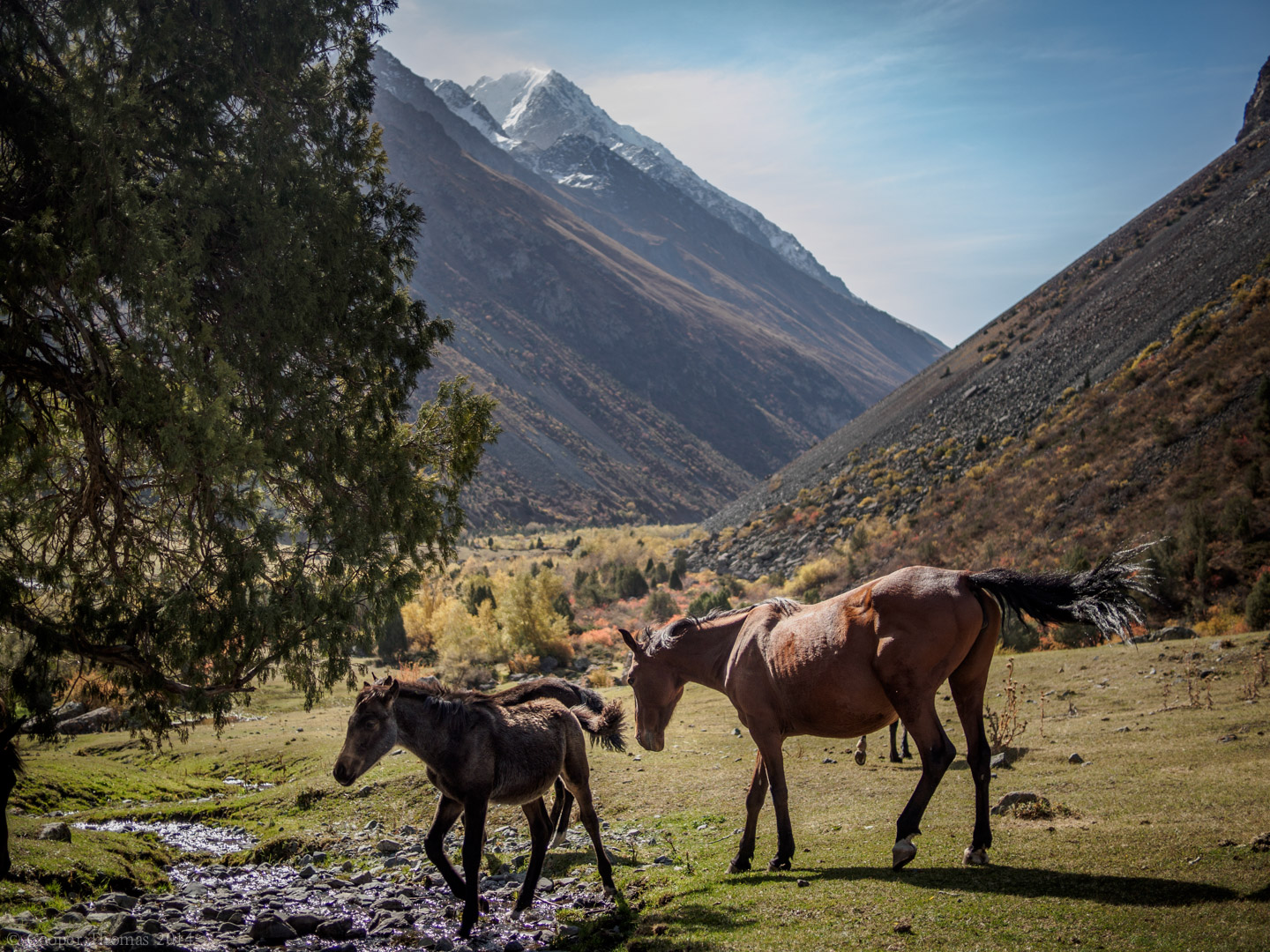 Before long, we reached a small brook flowing down the side of the mountain. We followed the brook uphill for about 300 feet, passing through a dense thicket, and then scrambling over scree and wet rocks.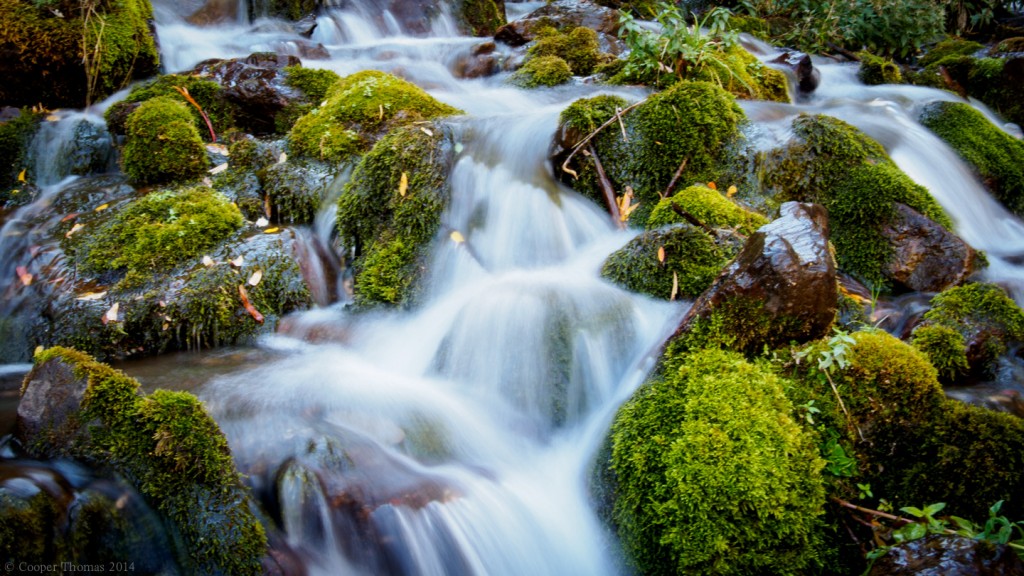 Eventually, we found ourselves in a narrow canyon, and rounding a corner, suddenly stood directly in front of a waterfall. It wasn't a big one — just 20 feet tall, perhaps — but the steep overhang of the cliff from which it tumbled gave it an impressive appearance. We stopped for lunch at the waterfall. I took some photos. I tried to get this guy to smile, but he just wasn't having it.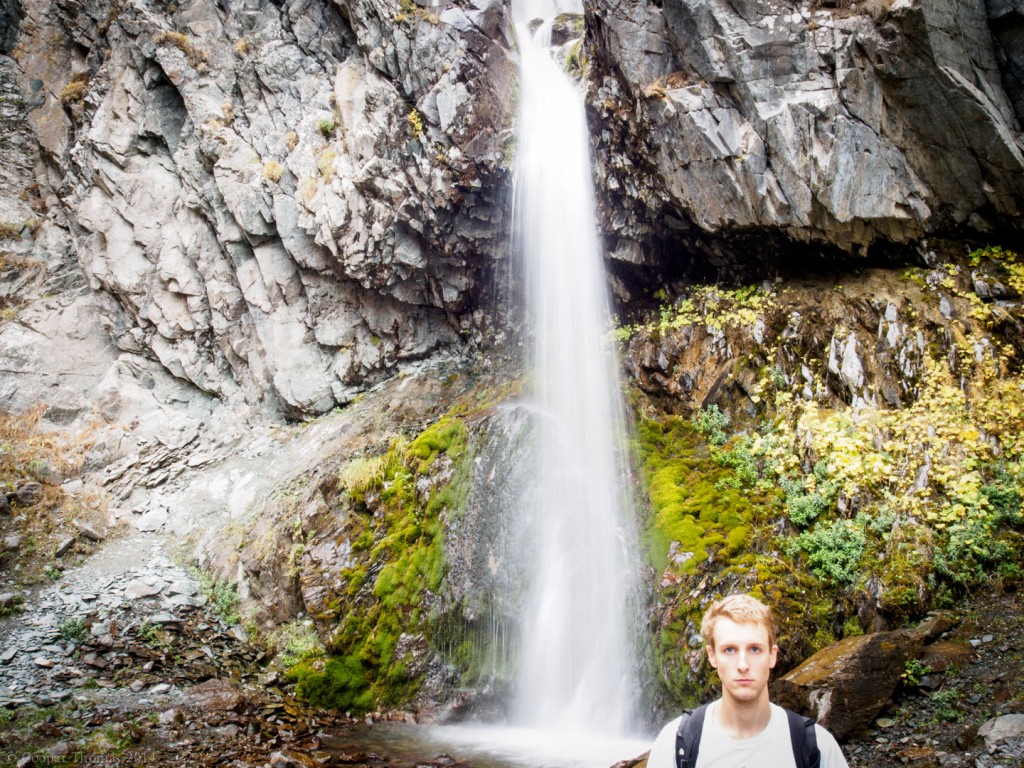 After refueling, we headed back down into the valley, and then along the river for another three or four miles. The clouds were beginning to roll in, and it was now about 3:00pm, so we decided to retrace our steps to the trailhead and meet up with the marshrutka. By the time we reached the rickety pipe-and-wire bridge, the skies had darkened, and it looked like rain was on the way. I carefully made my way across the slippery surface, and once our whole group had gathered, we continued on to the road and the waiting marshrutka.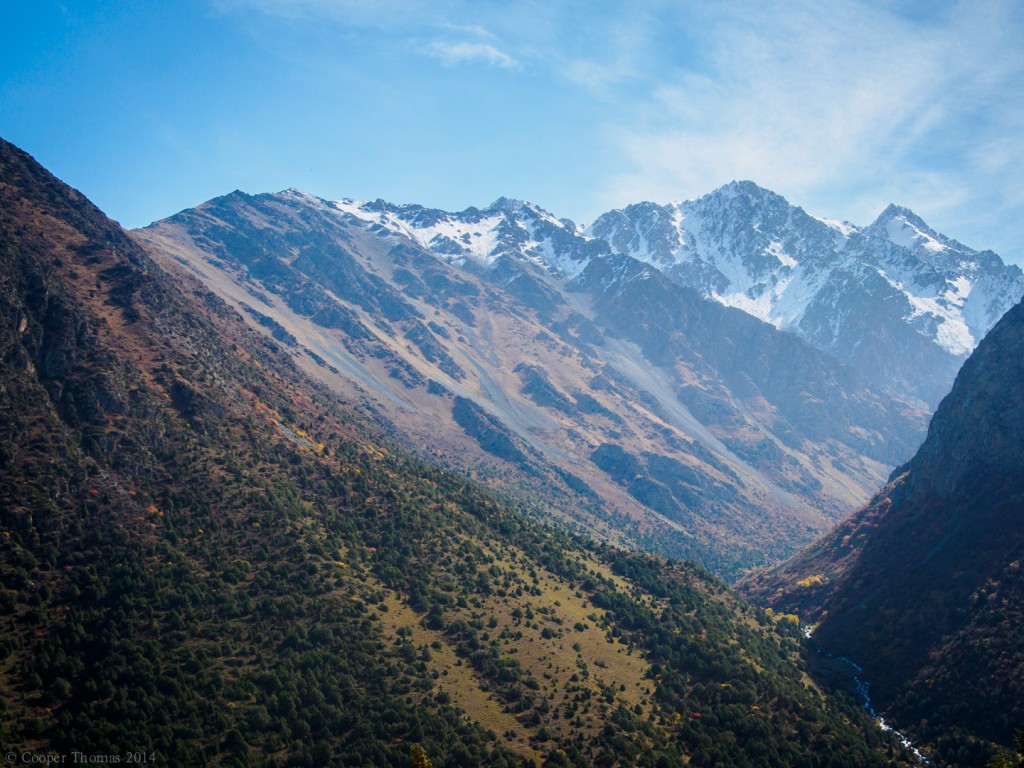 An hour later saw us back in the heart of the city. The mountains were now just a picturesque backdrop to an otherwise unassuming skyline. It's remarkable to me how accessible these mountains are, and yet, how wildly untamed they remain. I've been told that many of the peaks have yet to be summited. If I didn't know any better, I'd try to bag a 14er myself! In the coming months, I hope to take advantage of TUK's weekend excursions, as they offer a welcome reprieve from the frenetic pace of urban life. (Frenetic by Kyrgyz standards, that is.) At least, until the weather grows sour. And at that point, I will continue to enjoy the snowy peaks from the comfort of my living room.
Next time: join me on a trip to Osh Bazaar, one of Bishkek's central commercial spaces, and a focal point of my research project.