In the fall of each year, thousands of Kyrgyz Muslims congregate in Bishkek's Old Square (ironically, in the shadow of an imposing Lenin statue) to engage in collective prayer in honor of Eid Al-Adha – locally known as Kurman Ait – or the "Feast of Sacrifice." This Islamic holiday commemorates Ibrahim's steadfast willingness to sacrifice his only son, Ismail, in the name of God. It is one of the most important days in the Islamic calendar. Following the morning prayers, devotees celebrate this holy day by sacrificing an animal and sharing the food with family, neighbors, and the poor and needy. This year, the holiday fell on Saturday, October 4. Despite an abominable weather forcast, I made up my mind to attend the morning prayers.
I arrived at the square at around 7:00am. The sky was dark and spitting rain. Though the communal prayer wasn't scheduled to begin until 7:30am or so, several thousand people had already gathered to hear the head Kyrgyz mufti deliver a sermon. They stood shoulder-to-shoulder in neat rows, their colorful prayer mats at their feet, and listened to the sermon attentively.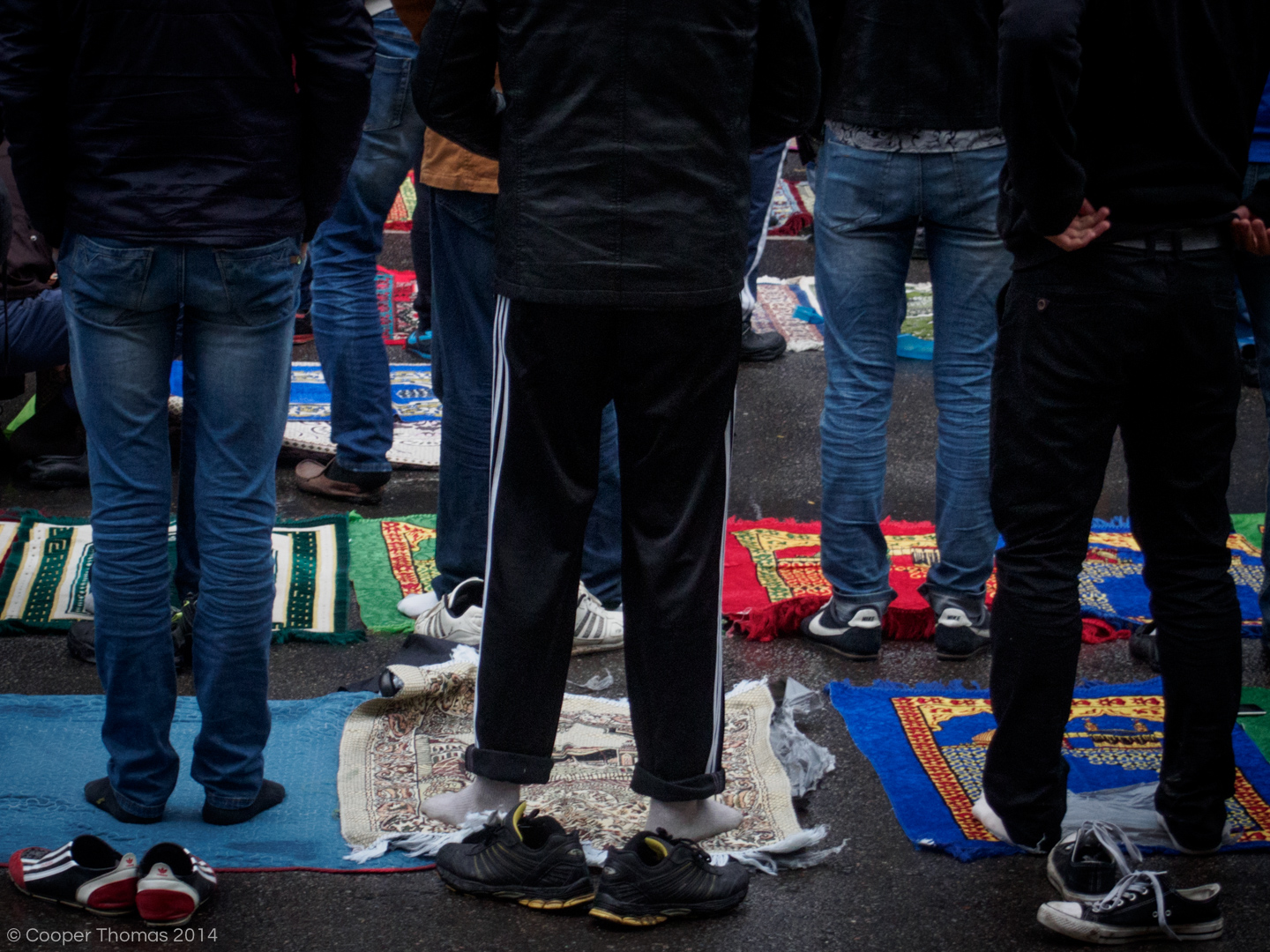 Dozens of vendors, including some young children, moved through the crowd, hawking cheap prayer mats and hats to those who had perhaps forgotten theirs at home. I tried to talk to a few of these vendors, but the presence of my camera made them visibly uncomfortable.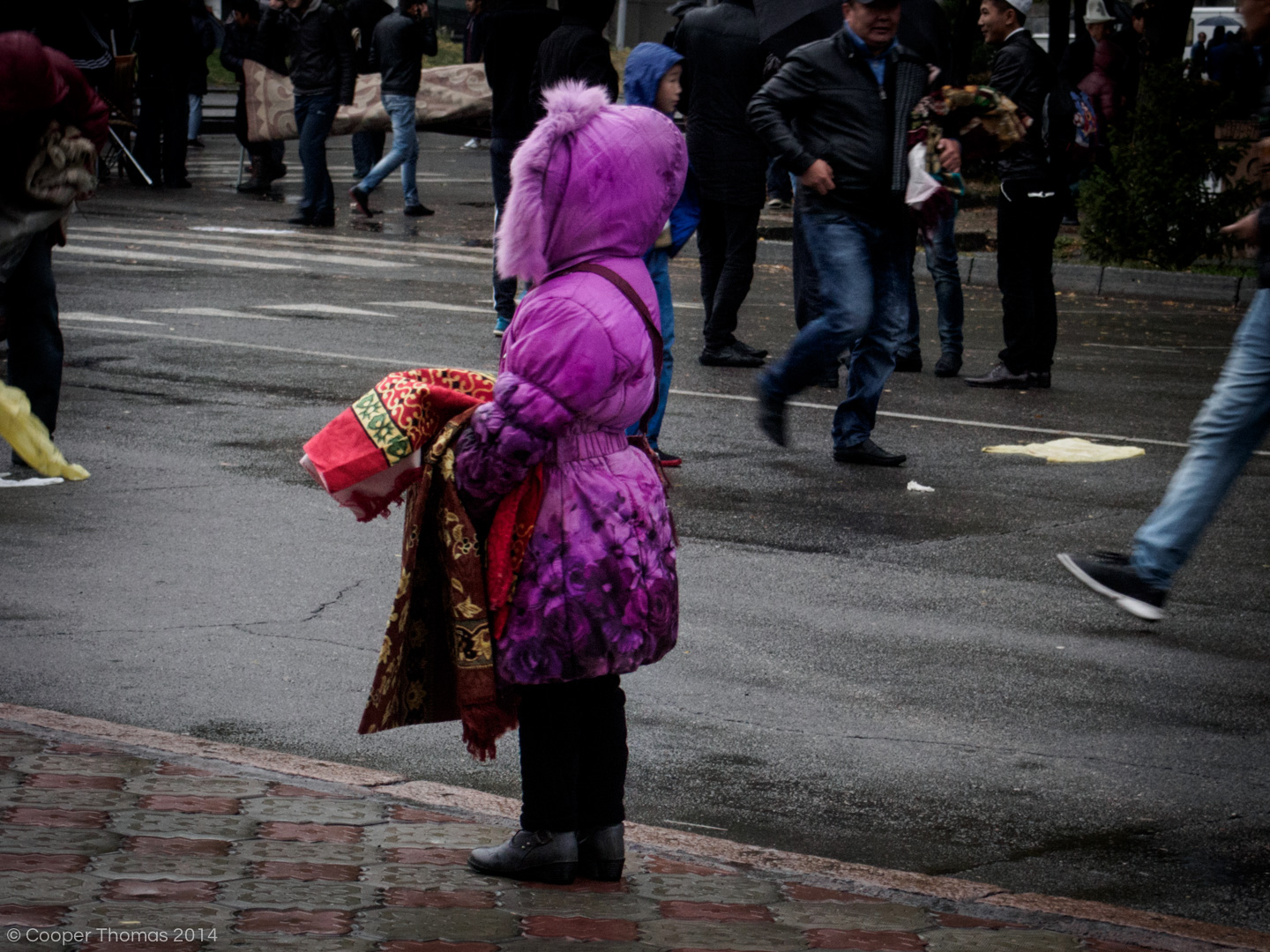 I wandered around the periphery for some 20 or 30 minutes, and did my best to photograph the proceedings. Sadly, many of the photos turned out either super noisy (grainy), or a bit blurry, because I was shooting with a slow zoom lens. (Won't make the same mistake again.) I got a few nasty looks, and for the most part, I kept my distance. I didn't have a press pass, and so I wasn't able to shoot the congregation from the front. During this time, more and more people descended on the square.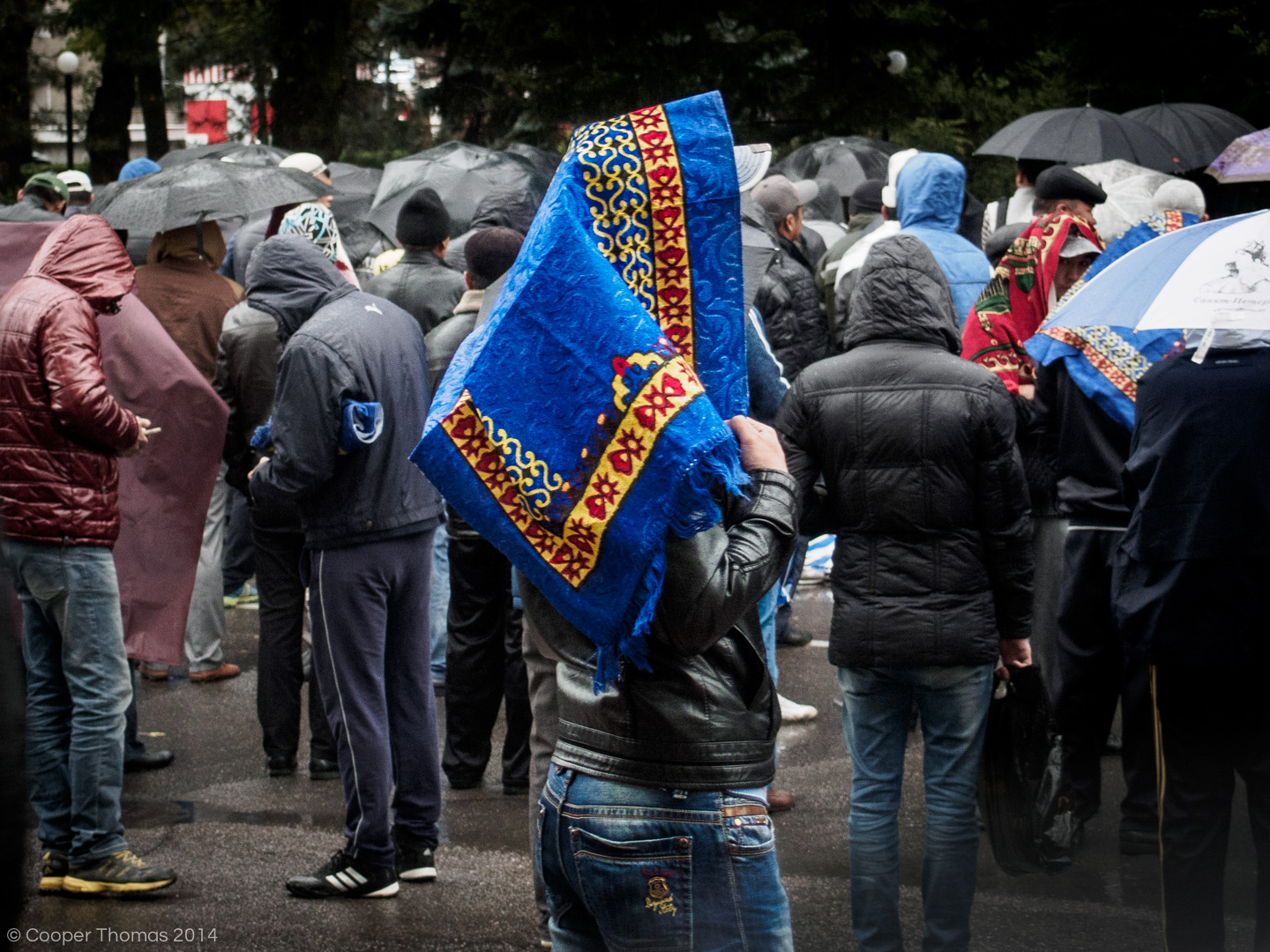 At around 7:45am, the preacher said something, and everyone stood at attention. Those who had not yet found a place to lay their mats literally sprinted to the rear of the congregation. Then, in unison, the entire group of people began to pray; first, holding their hands to their ears, then bending down, and then kneeling on their mats and touching their foreheads to the ground. The prayers themselves lasted for about 15 minutes.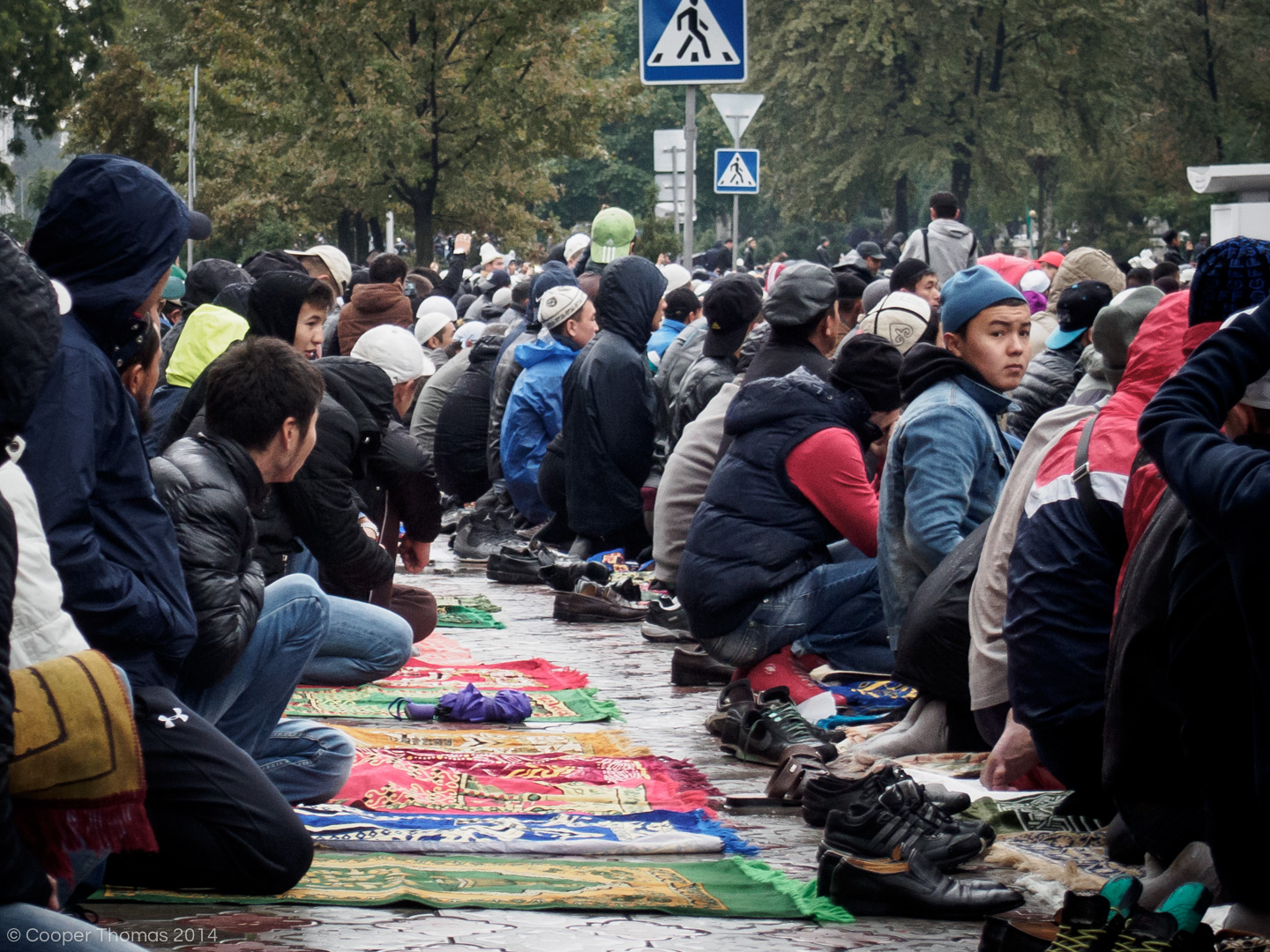 And then, just as suddenly as they had begun, the prayers ended. Everyone packed up their mats and dispersed. Just ten minutes later, the square was virtually empty again. (As an aside, there was no litter, which impressed me.)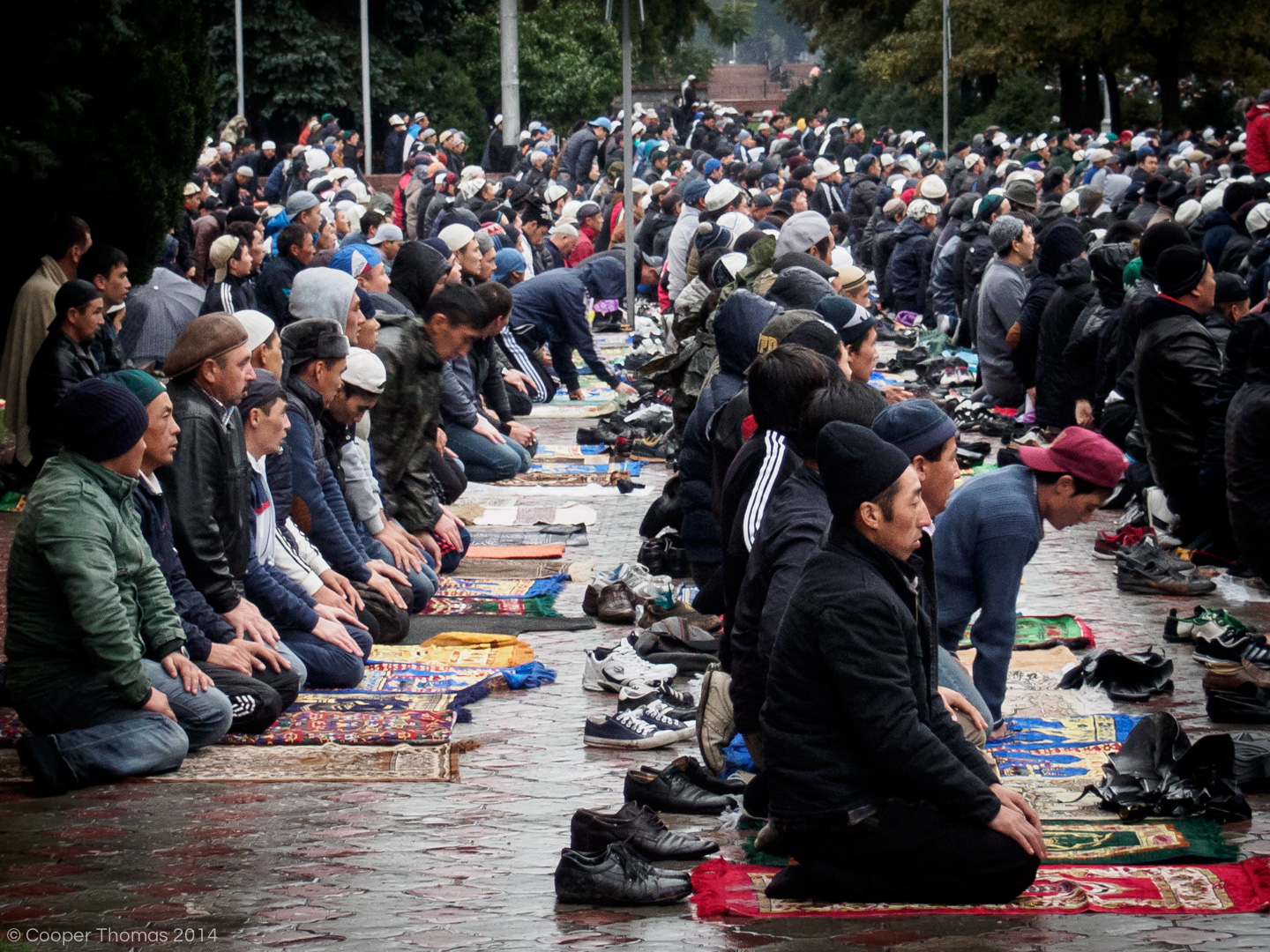 As I walked back toward my apartment, I passed dozens of crippled and impoverished people, young and old, jingling bags of coins in their outstretched arms. Zakat, one of the Five Pillars of Islam, demands that devotees donate 2.5% of their earnings to the poor and needy. I even noticed some presumably non-Muslim Roma attempting to cash in on this benevolent religious mandate. Kyrgyz passersby diligently emptied their pockets, often dropping a coin or a bill into every palm.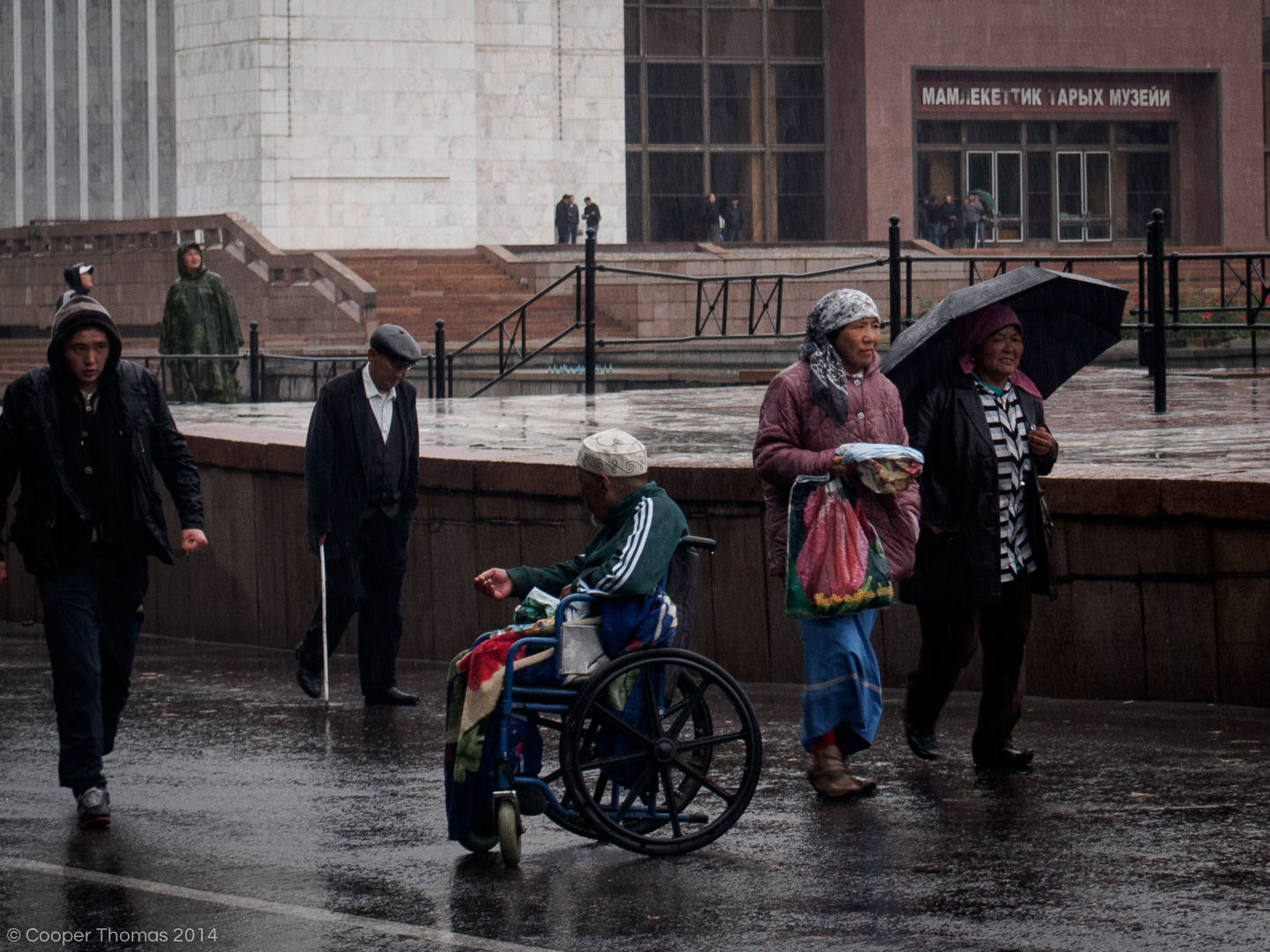 While most Muslims in Kyrgyzstan are not particularly devout – and many practice a brand of Islam infused with indigenous shamanistic traditions – a Kyrgyz friend of mine, himself a Muslim, told me that on Eid al-Adha, and on other religious holidays, all Muslims in Kyrgyzstan embrace the religion wholeheartedly. If this event is any indication, that's certainly the case.