Welcome to the fourth installment of Buildings That I Love, an ongoing exploration of Bishkek's architectural curiosities. You can read entries one, two, and three by clicking on the highlighted links. In this post, we'll take a closer look at the 18-story apartment tower that looms over downtown Bishkek. I probably should have led with this building, as it is, without a shadow of a doubt, my favorite construction in Bishkek. If I've shown you any photos of my time in Kyrgyzstan, chances are, you've already seen it. But you probably don't know too much about the building's history.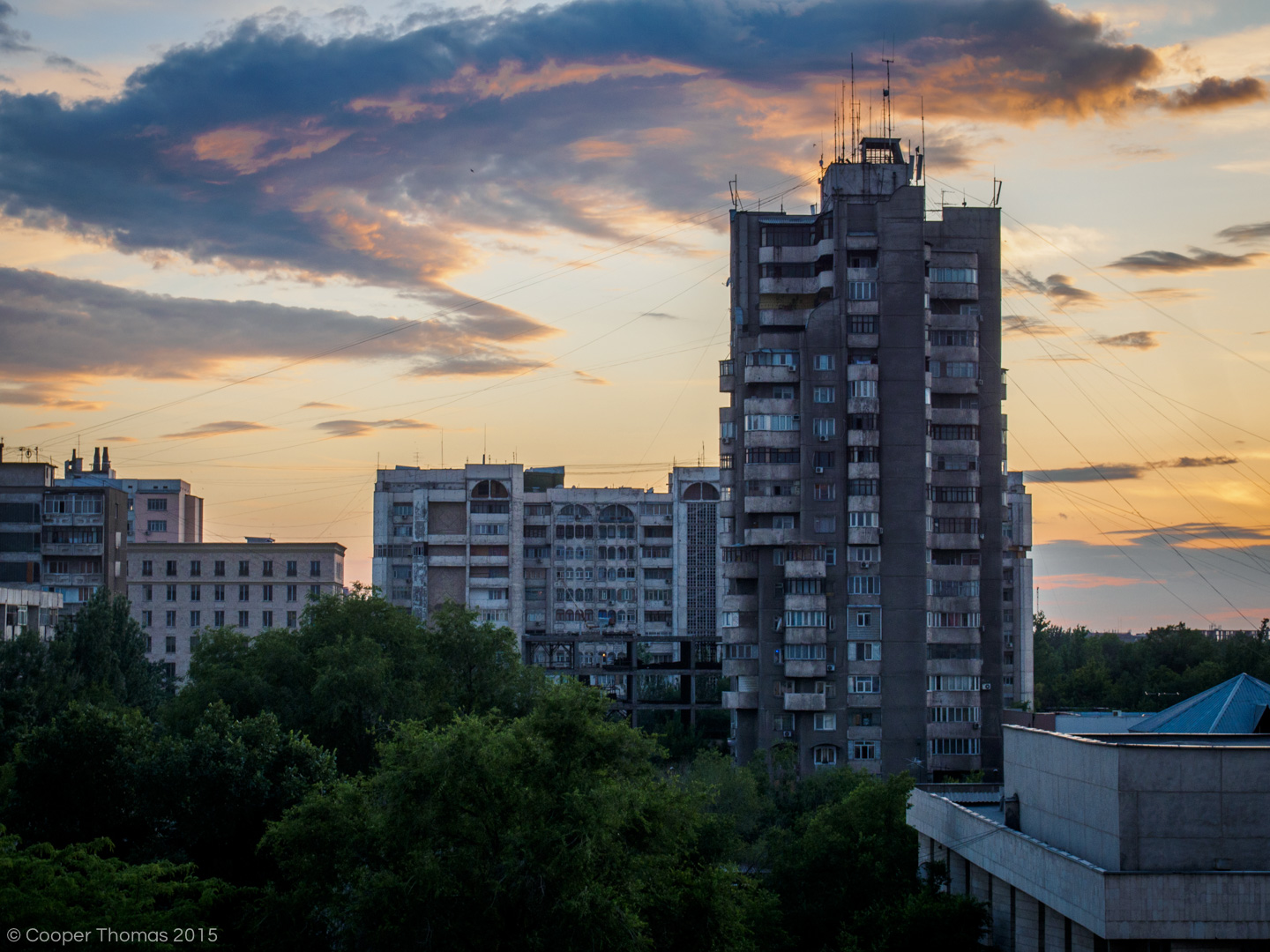 In the decades following WWII, rapid urbanization Soviet Union placed a great strain on existing housing stocks. So, in the early 1960s, Soviet planners launched an extensive development project aimed at alleviating rampant overcrowding – temporarily, at least. In just a few short years, government-operated factories churned out thousands of residential buildings. Constructed using pre-fabricated concrete panels, these structures were cheap, fast, and easy to produce en masse. Though many people find the buildings visually uninspired and lacking in charm or character – their uniformity is parodied in 1976 Russian film Ирония Судьбы (The Irony of Fate) – these buildings fulfilled their fundamental purpose as a stopgap solution to the urban housing crisis.
By the 1980s, however, planners realized that these buildings, which typically did not exceed seven or eight stories, were spatially inefficient. Moreover, most buildings were designed to last 20–30 years, and some were beginning to decay, imperiling their inhabitants. So, drawing inspiration from Western examples, Soviet architects began to experiment with new forms and materials that would allow them to produce higher-density residential constructions. The 18-story building in Bishkek is one of those imaginative prototypes.
Eighteen stories is not particularly impressive by Western standards, but in Bishkek, a city altogether devoid of skyscrapers, the tower rises well above the skyline. Yet, despite its prominence, the building is not visually intimidating; while it stands out from the surroundings, it does not necessarily overwhelm them. Its curved pods and panels, architectural appendages enabled by the use of steel reinforcing, are a pleasant departure from the typically angular forms of other pre-fab buildings from the Soviet era. The building is asymmetrical, but it does not feel unbalanced. It's not trying to look iconic, and yet, it is.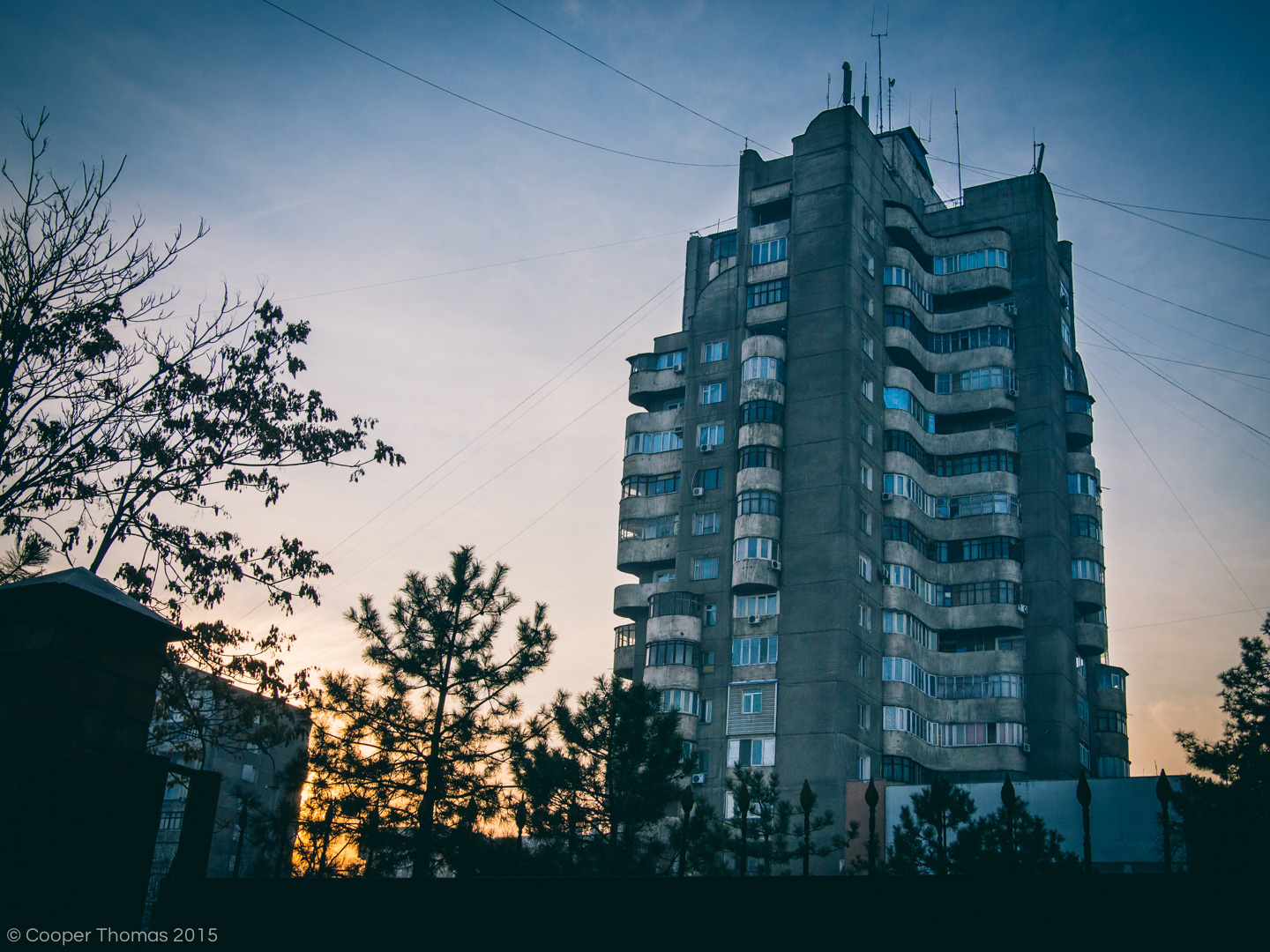 To me, the building looks like a rocket ship in the final stages of its launch countdown. The roof of the building is bedecked with dozens of satellite receivers, which are connected to nearby buildings by slack cables dangling like fuel lines. The round pods might serve as emergency escape vehicles in the event of an aborted launch.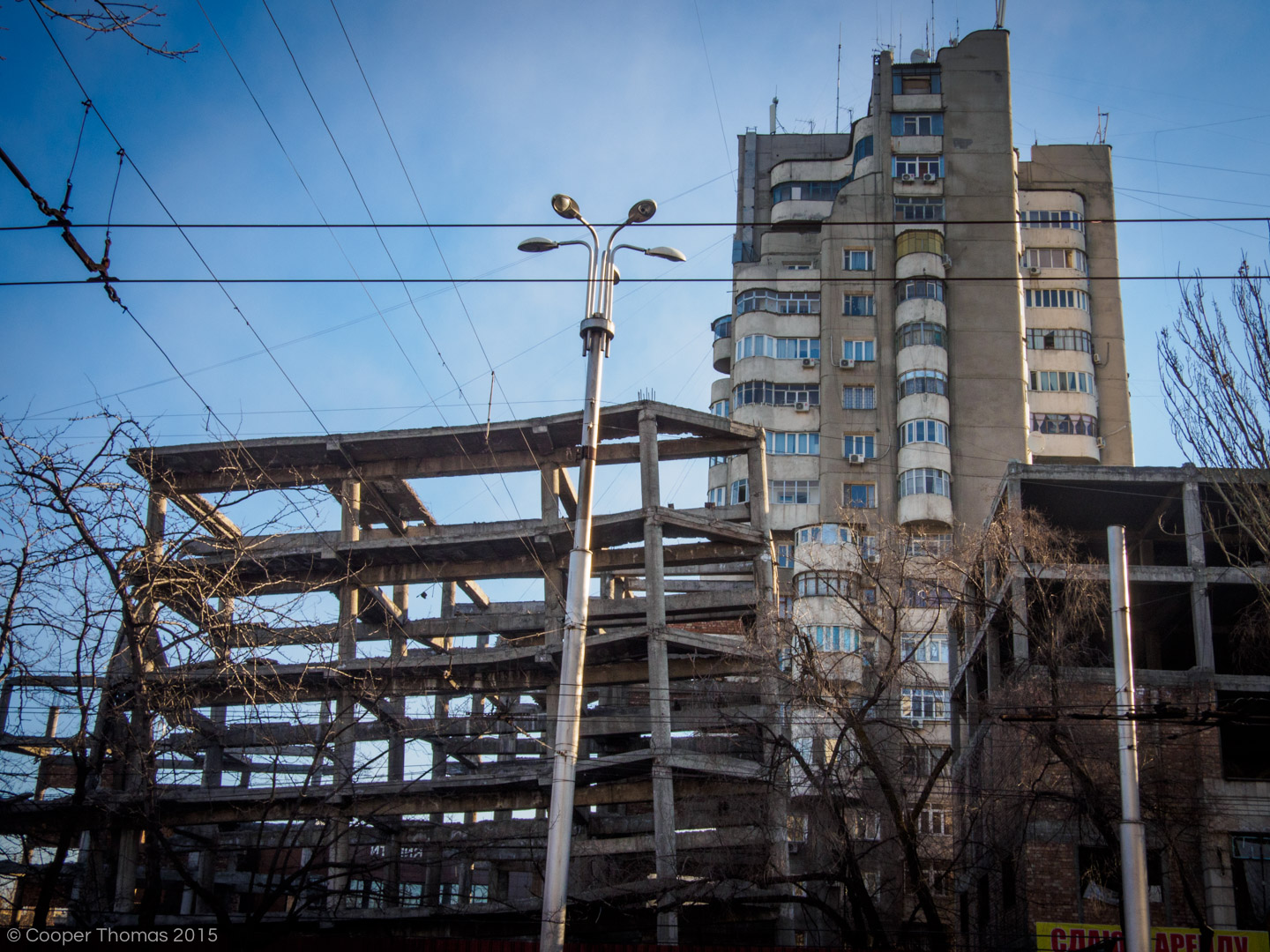 The building is another product of Frunzegorproekt, the state-run architecture agency that oversaw the construction of many of Bishkek's best-known buildings. Dozens of local architects have claimed at least partial responsibility for the design, including our old pal Alexander Zusik, the man behind the White House. Incidentally, this is not the only building of its kind in Bishkek; at least half a dozen similar, if not identical, structures are scattered throughout the city's microdistricts. But there's something about this one that captures my imagination. Perhaps it's the building's spatial contexts: all around it, old structures are being demolished and garish new ones are sprouting up in disharmonious coincidence. But this structure remains unmoved, patient and resilient, like a giant steel-and-concrete ent.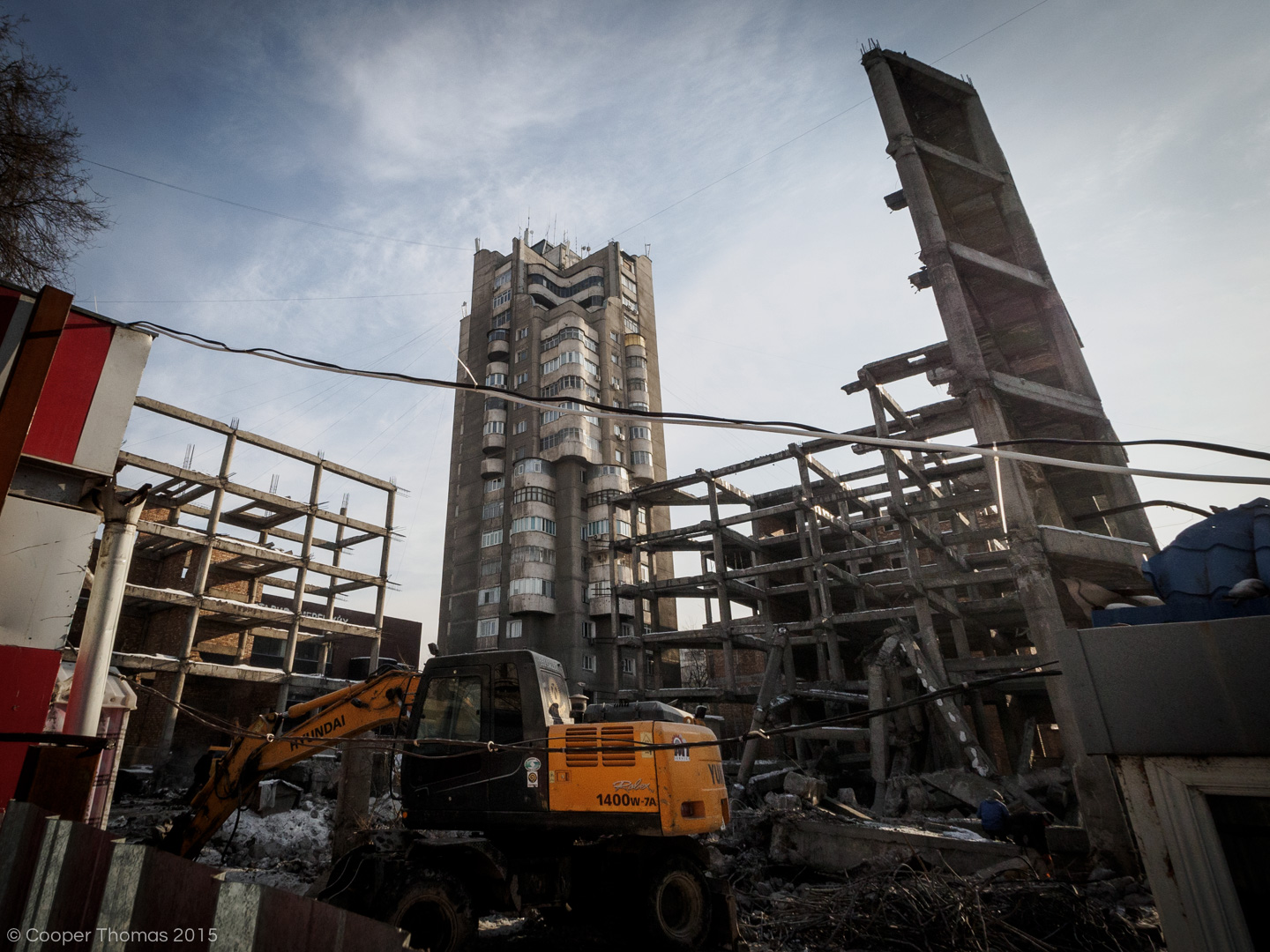 Here are some film photos from the defective roll I shot last fall.