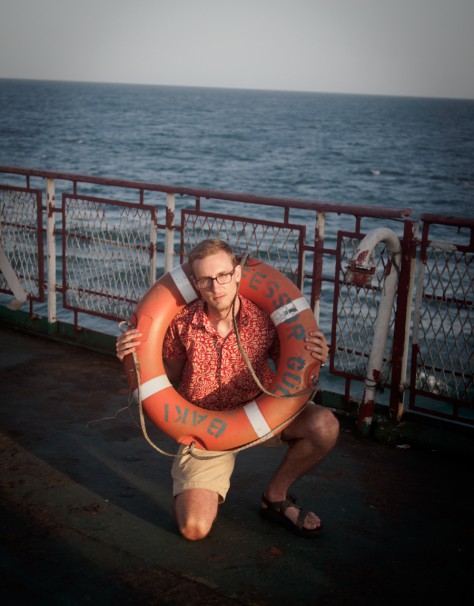 Hello, I am Cooper: geographer, creator, explorer, erstwhile scholar, and enthusiast of all things map-related. My own cartographic creations have been nominated for international awards, included in museum exhibits, and hung on friends' walls. In addition to cartography, I've been known to dabble in photography, graphic design, digital music production, and other disciplines that marry art, technology, and science. I'm a true Renaissance Man for the 21st century – at least, that's what I keep telling myself.
I graduated from Dartmouth College in 2014, and spent the following year on a Fulbright research fellowship in Kyrgyzstan, where I produced a multimedia project exploring the social and cultural implications of urbanization in post-Soviet cities. I currently work as a Product Engineer on Esri's Story Maps team, but spend much of my spare time plotting a return to Central Asia.
At left, I test the safety equipment of a Caspian Sea cargo ferry while pondering life's great questions.
Education
Dartmouth College (Hanover, NH)
BA in Geography (magna cum laude)
Specialized coursework in cartography; GIS; object-oriented programming; 3D modeling; animation; statistics.[ssba_hide]
Experience
Esri (Washington, DC)
Story Maps Product Engineer
Produce bespoke Story Maps for partner organizations; contribute to the design and development of the Story Maps platform.
World Resources Institute (Washington, DC)
Cartographic Design Intern
Researched and designed static and interactive maps for public and internal distribution; designed and developed responsive websites.[ssba_hide]
U.S. Fulbright Commission
Fulbright Research Fellow, Kyrgyzstan
Researched, designed, and produced a multimedia narrative microsite exploring post-Soviet urban development in Kyrgyzstan.[ssba_hide]
Maps.com Marketplace
Freelance Cartographer
Research and design static reference and thematic maps for various commercial and not-for-profit clients.[ssba_hide]
Neukom Digital Arts Leadership and Innovation Lab (Hanover, NH)
UI/UX Designer
Conducted user research; designed static wireframes and high-fidelity mockups for websites and mobile applications.
Tiltfactor Lab (Hanover, NH)
Digital Content Production Assistant
Prduced visual assets for games and promotional materials; conducted quality assurance tests on iOS and Android apps; assisted with user experience design; oversaw on-site game research studies.
Hopkins Center for the Arts (Hanover, NH)
House Manager
Acted as liaison between front-of-house staff and backstage production teams; attended to patrons; evaluated performance of house ushers. Promoted from Head Usher in June 2012.
Boston Cyclists Union (Boston, MA)
GIS Intern
Designed and managed complex geodatabases; conducted geospatial and statistical analyses of bicycle incident data; produced static and interactive maps.
Second Story Interactive Studios (Portland, OR)
Content Production Intern
Researched and designed static narrative maps; conducted quality assurance on multimedia museum installations; drafted and edited project proposals; assisted with user experience design.
Awards and Recognition
• Guido Rahr Memorial Award in Cartography (2014)
• Neukom Institute Research Fellowship (2013)
• Jeff Wulfson Memorial Award for Radio Excellence (2013)
• Adam Brown Memorial Award in Geography (runner-up, 2013)
• Presenter, "Creative Cartography," Museum Computer Network Conference (2013)
• FOSS4G Best Static Map Award (runner-up, 2013)
• Featured cartographer, wired.com (2013)
• Moe Frankel 1934 Scholarship recipient (2012, 2013)
• Dartmouth Academic Honors (2011, 2012, 2013, 2014)
Tools I Like to Use
ArcGIS
QGIS
MapBox Studio
Illustrator
MAPublisher
GDAL/OGR
GeoJSON.io
HTML
CSS
Javscript
jQuery
Mapbox.js
highcharts.js
Processing
Lightroom
Photoshop
InDesign
Balsamiq