Bishkek lies just 30 kilometers from the Kazakh border, and another 200 kilometers from Almaty, the cultural and economic (and, until 1997, the political) capital of Kazakhstan. I first visited Almaty last summer, during my breakneck road trip across Eurasia. Though I was only there for a matter of hours, the city tickled my curiosity, and left a lasting impression – it seemed bright and modern, but with a strong reverence for its Soviet and pre-Soviet history. And so, when I relocated to Bishkek last fall, I made every effort to visit this nearby city, to explore its architecture, and to learn more about its history.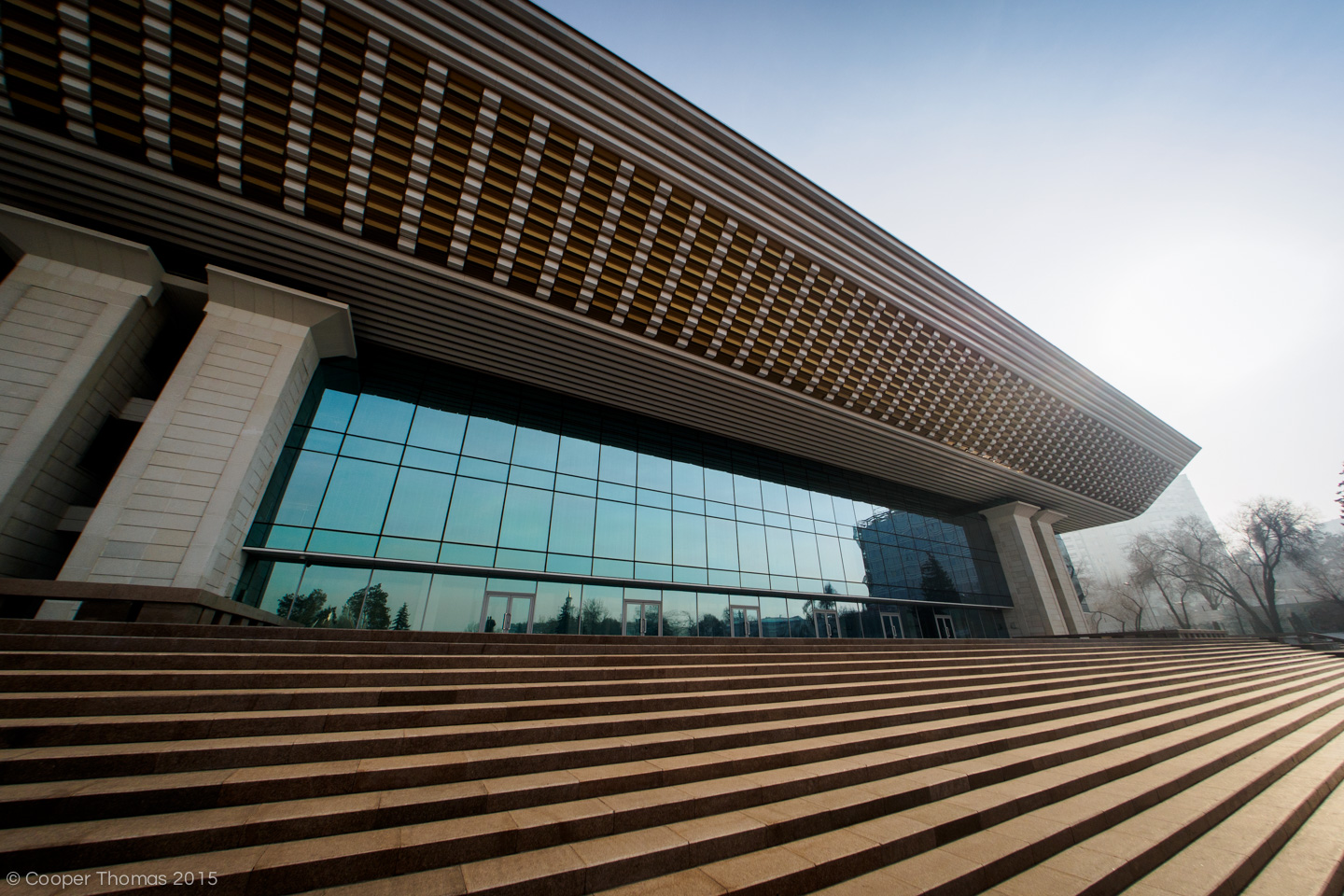 It's difficult to visit Almaty and not compare it to Bishkek, as the two cities are, as one might expect given their geographic proximity and shared history, fundamentally alike. Almaty is nestled in the northern foothills of the Alatau Mountains, the same range that graces Bishkek's backyard, and the city enjoys fantastic views of the perennially snow-covered slopes. Almaty is situated slightly closer to the mountains than Bishkek – so close, in fact, that city buses whisk passengers right up to the foothills – but the peaks bounding Bishkek are somewhat taller. And although Almaty boasts a longer history of permanent occupation than Bishkek, dating back to the 13th century, it is still a quintessentially Soviet city. Both cities came of age during the 20th century, when the Communist precept of utilitarian urban design reduced most Soviet cities to a single phenotype. Like Bishkek, Almaty is laid out on a grid – roughly eight kilometers E-W and three kilometers N-S – with dozens of small satellite communities freckling the land slightly further afield. Many of Almaty's Soviet-era buildings use the same materials and designs as their Kyrgyz counterparts, and wouldn't look out of place in Bishkek.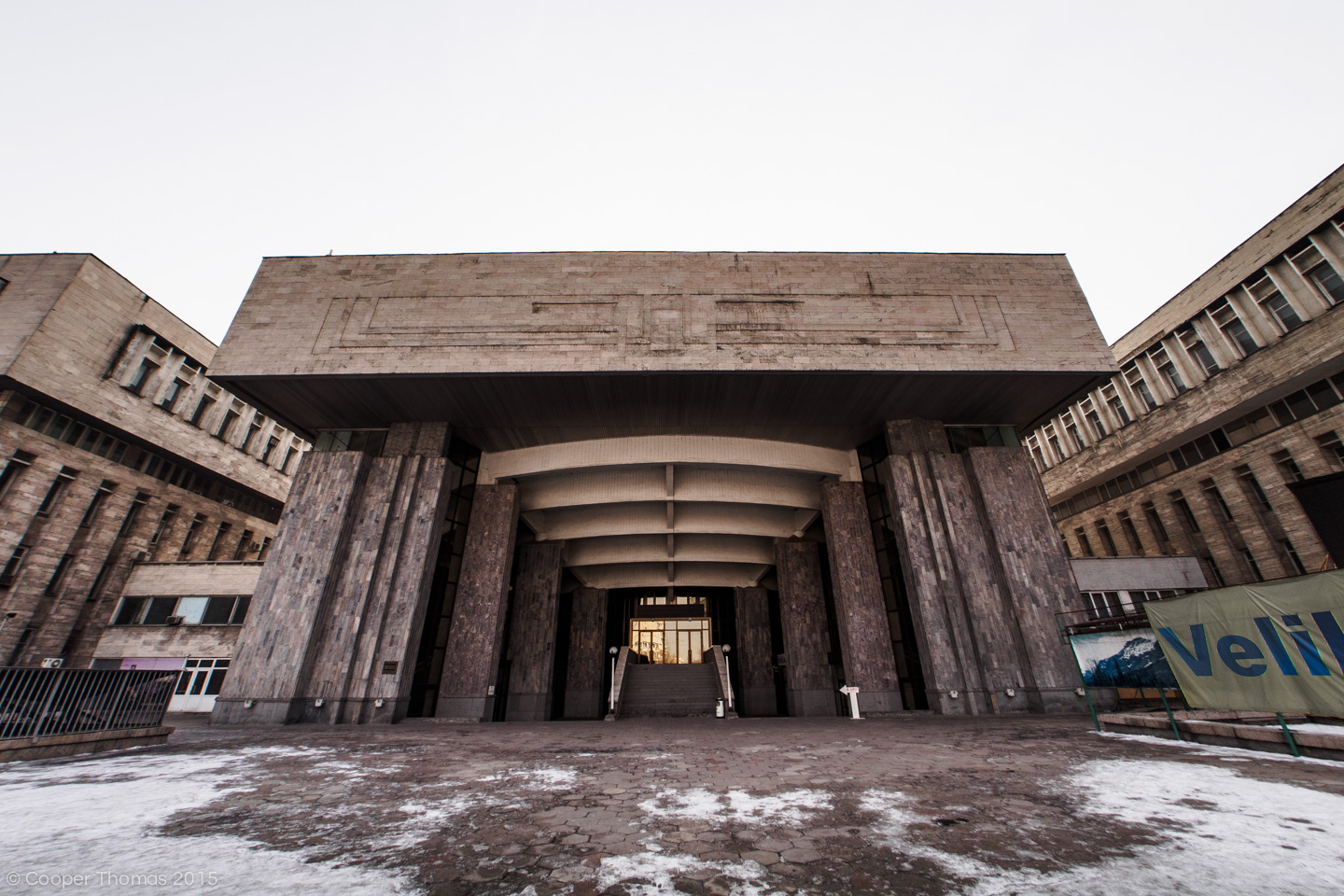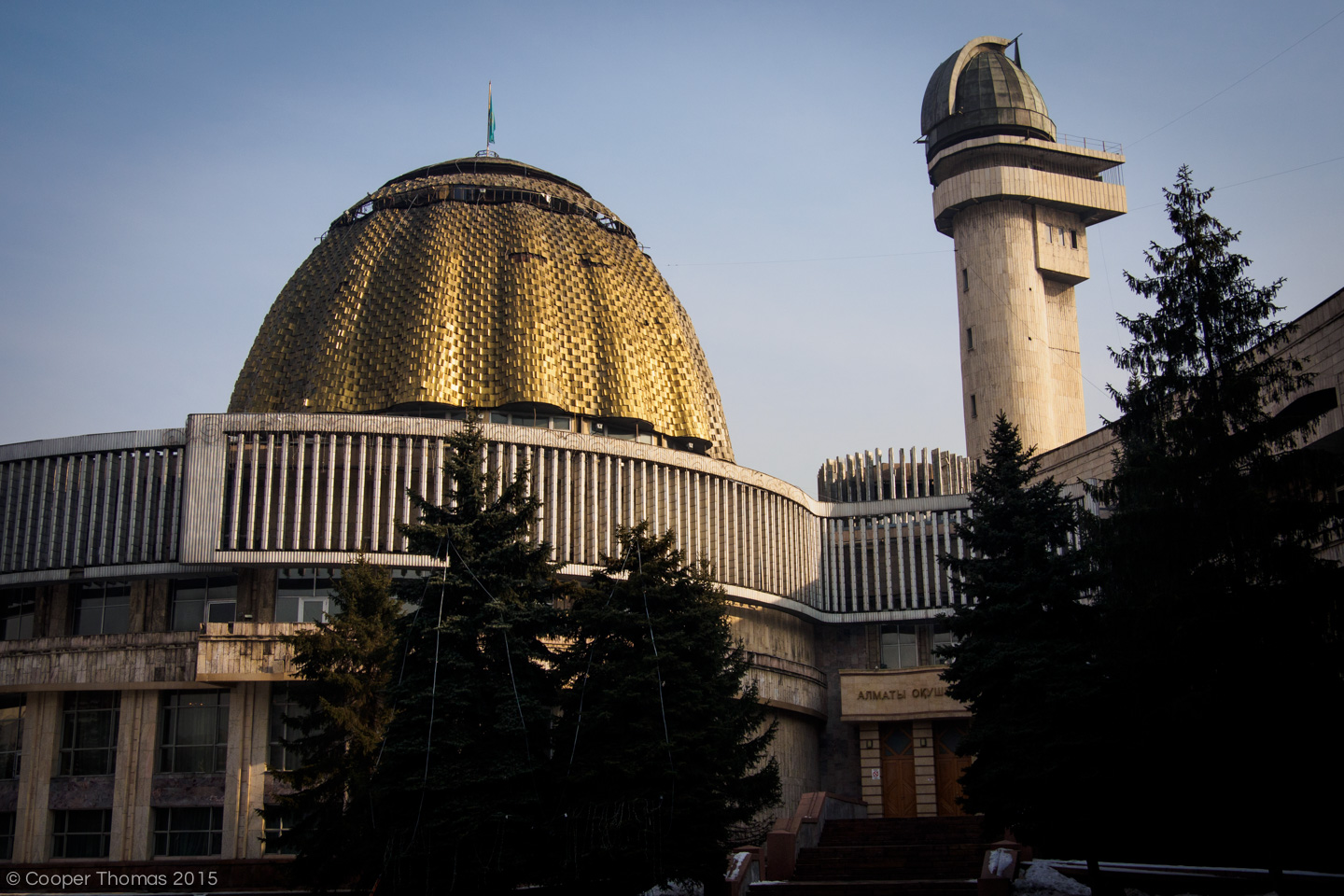 Despite their fundamental similarities, however, the two cities feel very different – to me, at least. Simply put, Almaty is bigger, more modern, and more flashy than its neighbor to the north. Whereas Bishkek has an urban population of around one million people, Almaty claims to harbor over 1.5 million residents. More importantly, however, Almaty was constructed from the ground up to accommodate at least a million residents; conversely, Bishkek was never intended to accommodate more than 600,000 people and is now practically bursting at the seams. Almaty invariably feels more spacious than Bishkek, and considerably calmer.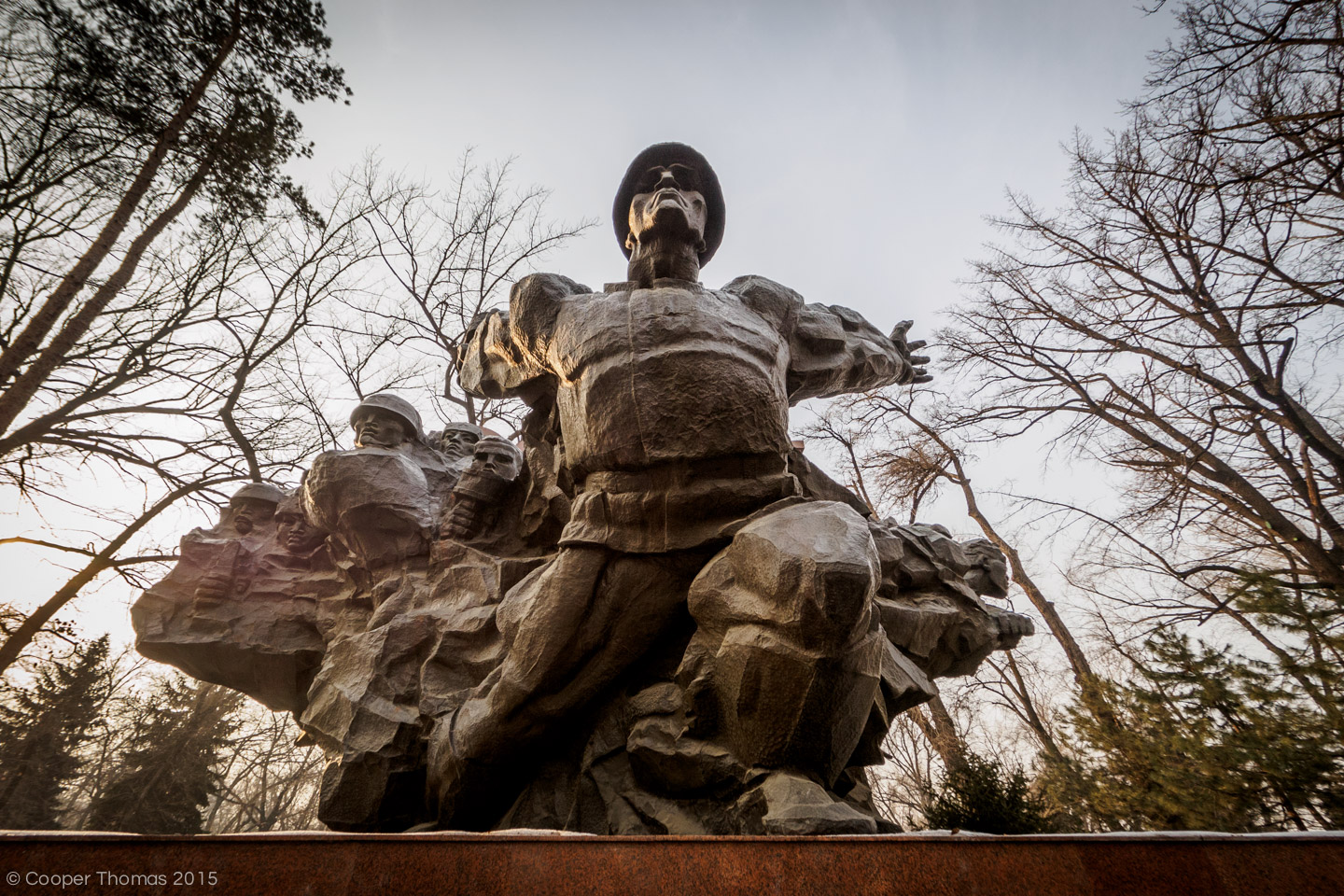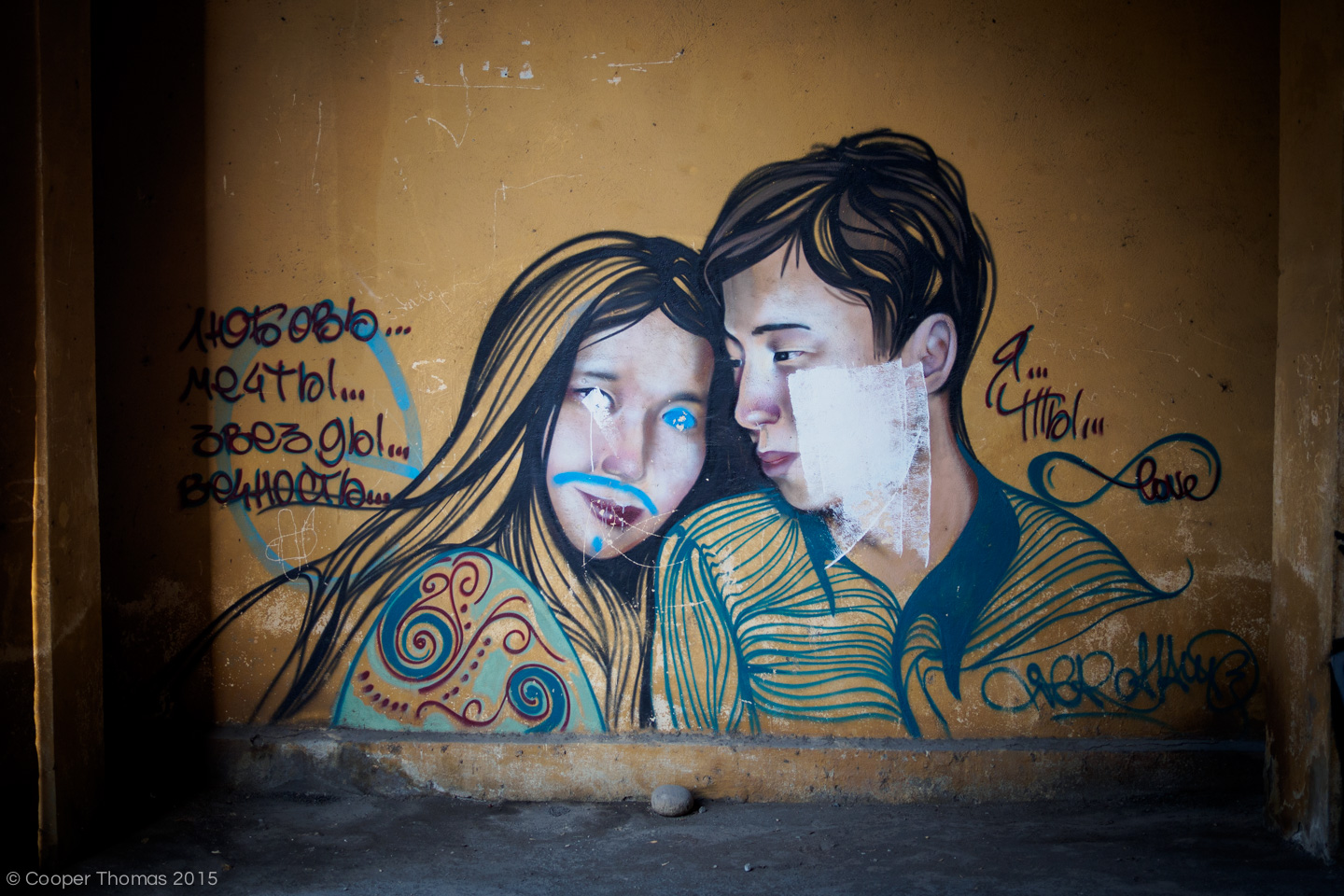 The two cities are also developing at vastly different rates. In capital-scarce Kyrgyzstan, the only new buildings breaking ground these days seem to be low-quality apartment buildings (filled with disproportionately overpriced "elite" apartments), or unlawful "самостройки" (unlicensed, self-constructed houses) on the outskirts of the city. Conversely, Kazakhstan has flourished economically over the past two decades, thanks largely to its vast oil and gas reserves. This money has been channeled directly into urban development, accelerating the modernization of Almaty. Here, futuristic-looking skyscrapers and concrete Khrushyovkas stand side by side in disharmonious coincidence.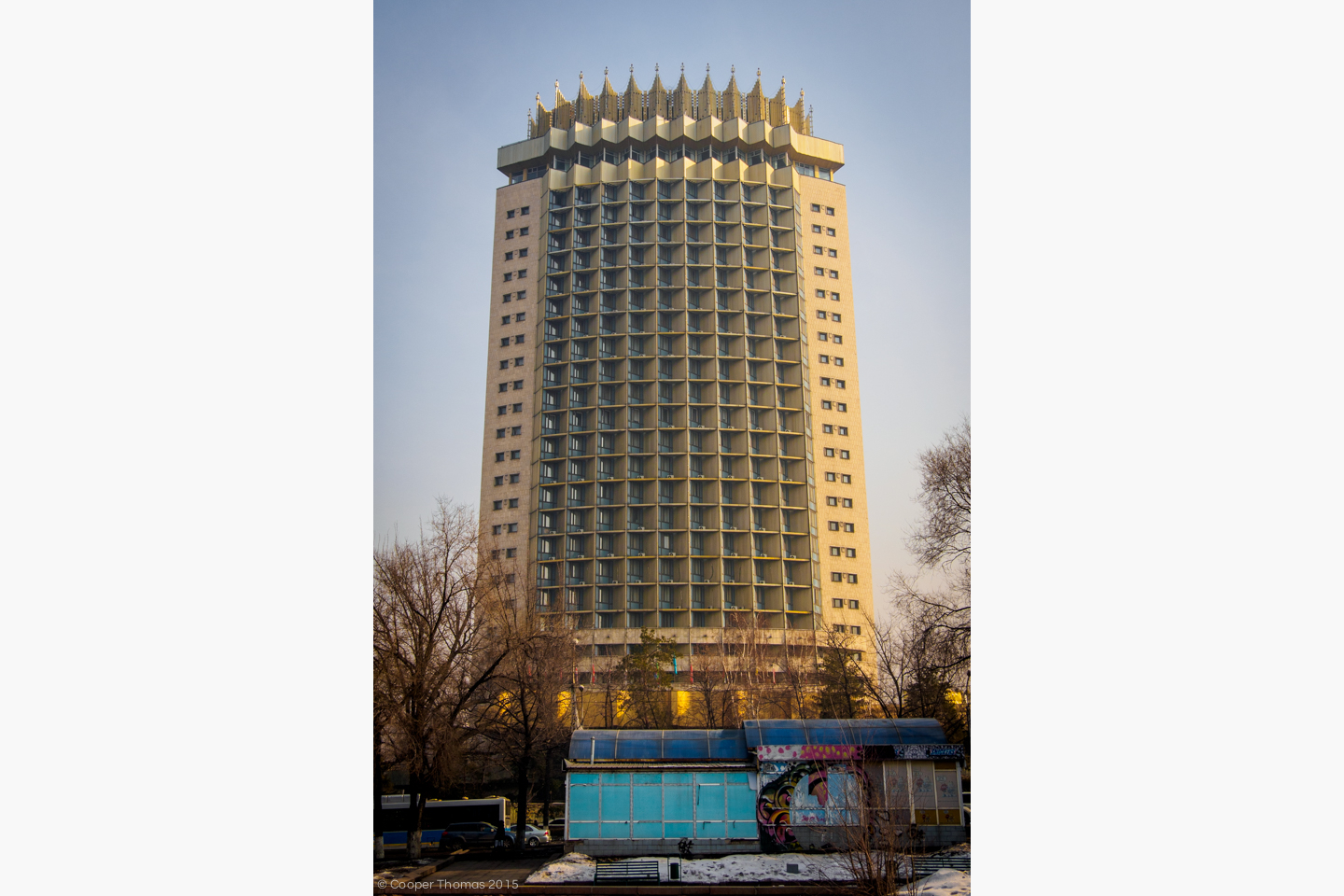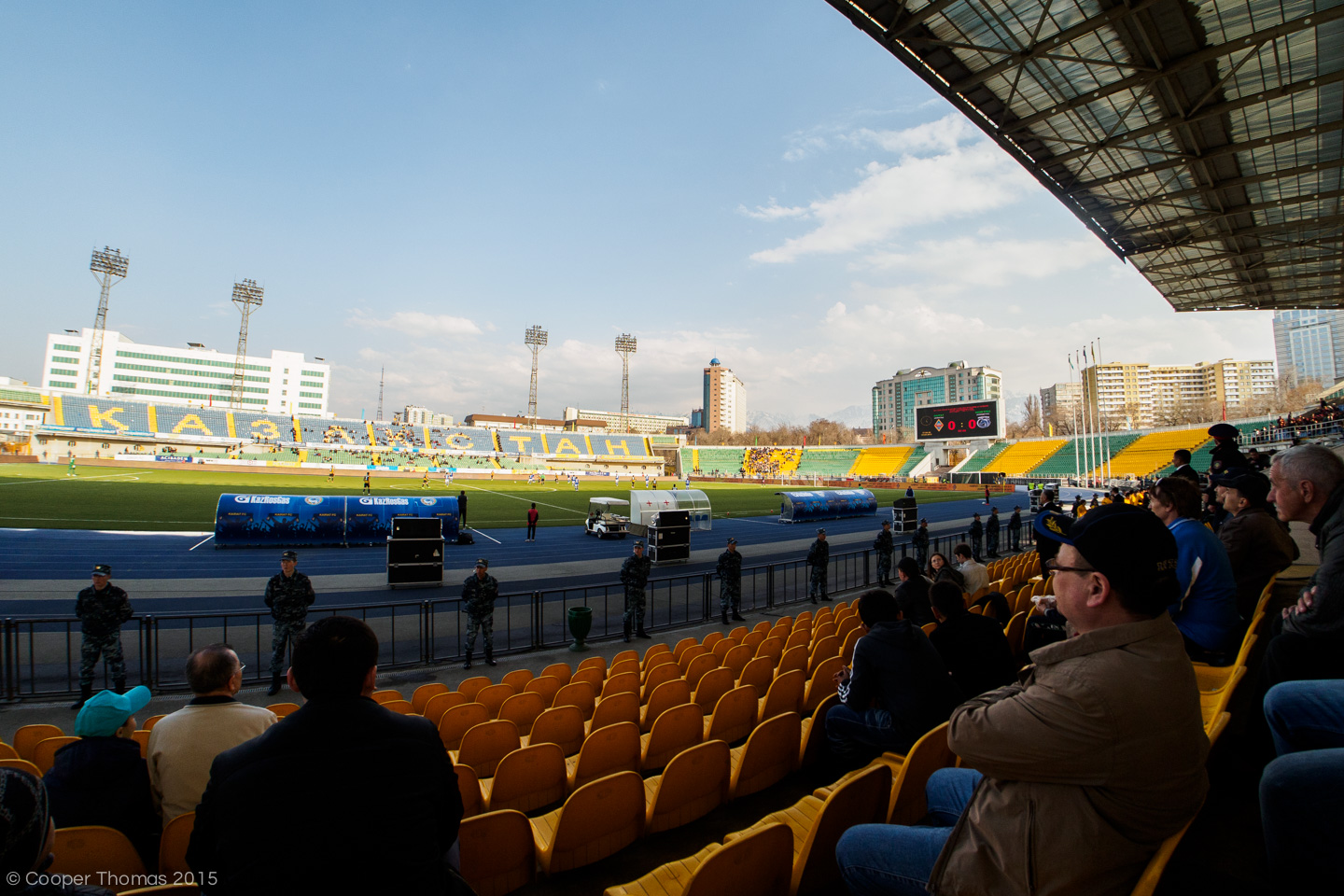 The most salient effects of this investment are the shiny new office buildings and luxury shopping centers that dot Almaty. In 2010, the Palace of the Republic (previously the Lenin Palace of Culture), a fine example of Soviet modernist architecture, received a $2.2 million facelift, and now sports a blue glass facade. The government has also invested heavily in infrastructure: above ground, major thoroughfares have been broadened and intersections reconfigured in order to accommodate heavier car and bicycle traffic, while below ground, a new metro system whisks passengers across the city.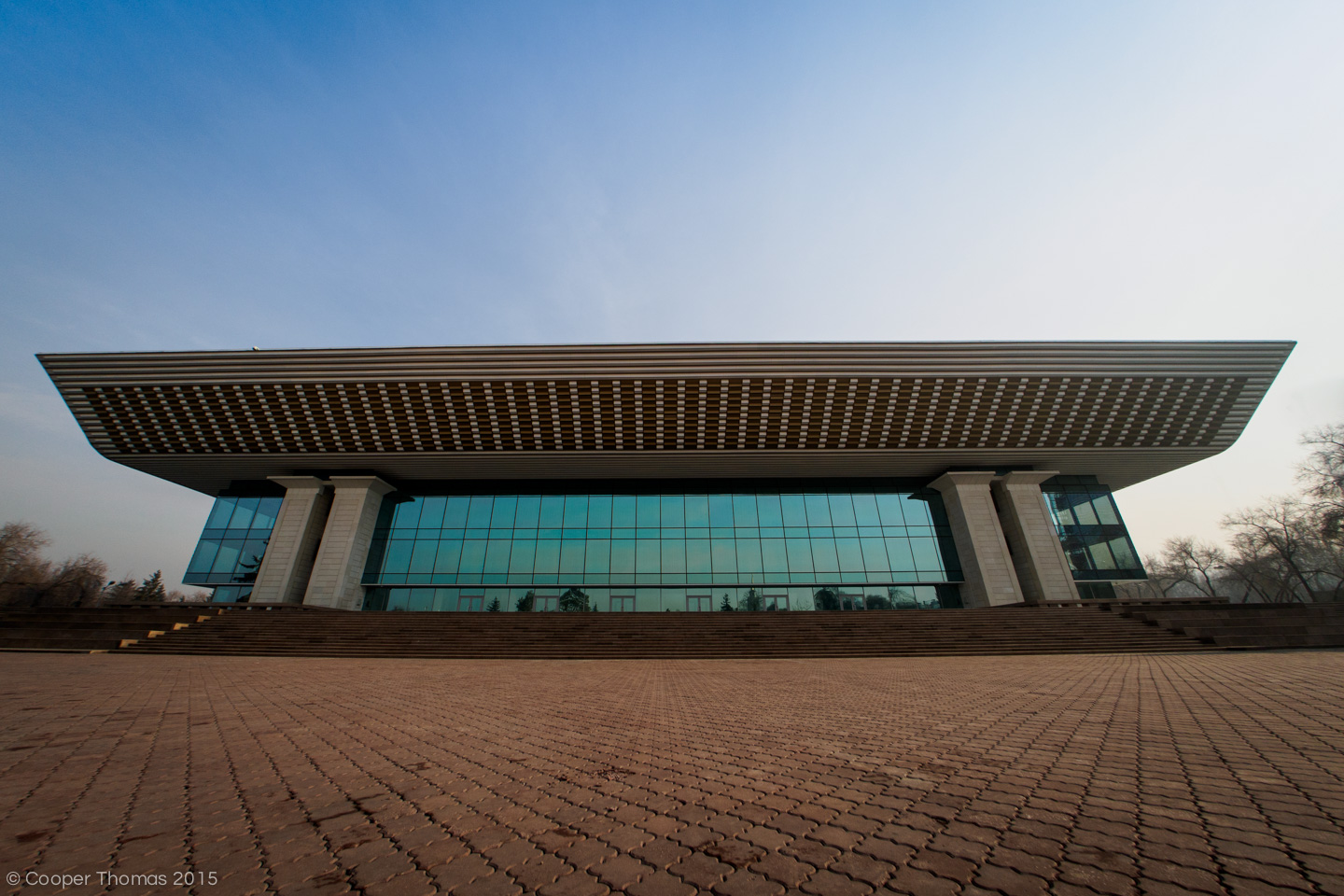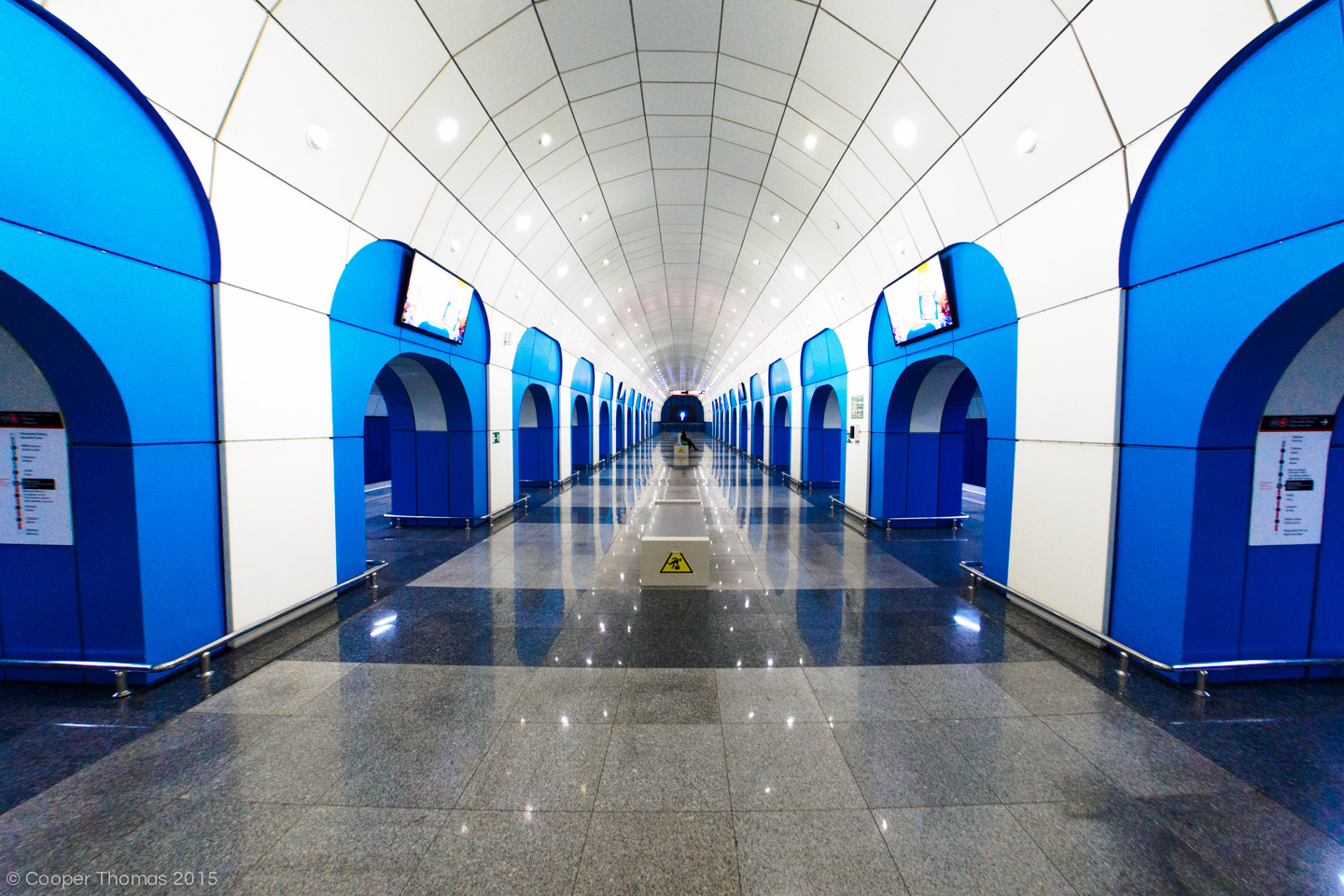 But at the same time, the government maintains a profound reverence for the past, expressed through meticulous upkeep of the city's myriad historical sites. On Tolebaev St., nearly every Stalinka apartment building bears a commemorative plaque identifying the heroic communist officials who once resided therein; in Panfilov Park, the fearsome war memorial is regularly polished, and the honorary eternal flame, ubiquitous throughout the former Soviet Union – is never at risk of extinguishment due to gas shortages. Nearby, Zhenkov's Cathedral, a pastel-colored relic of the Tsarist era, replete with the onion domes made famous by St. Basil's Cathedral in Moscow, is in near pristine condition. Given that the building is constructed entirely from wood – including, allegedly, the nails themselves – such intensive upkeep is difficult and no doubt very expensive.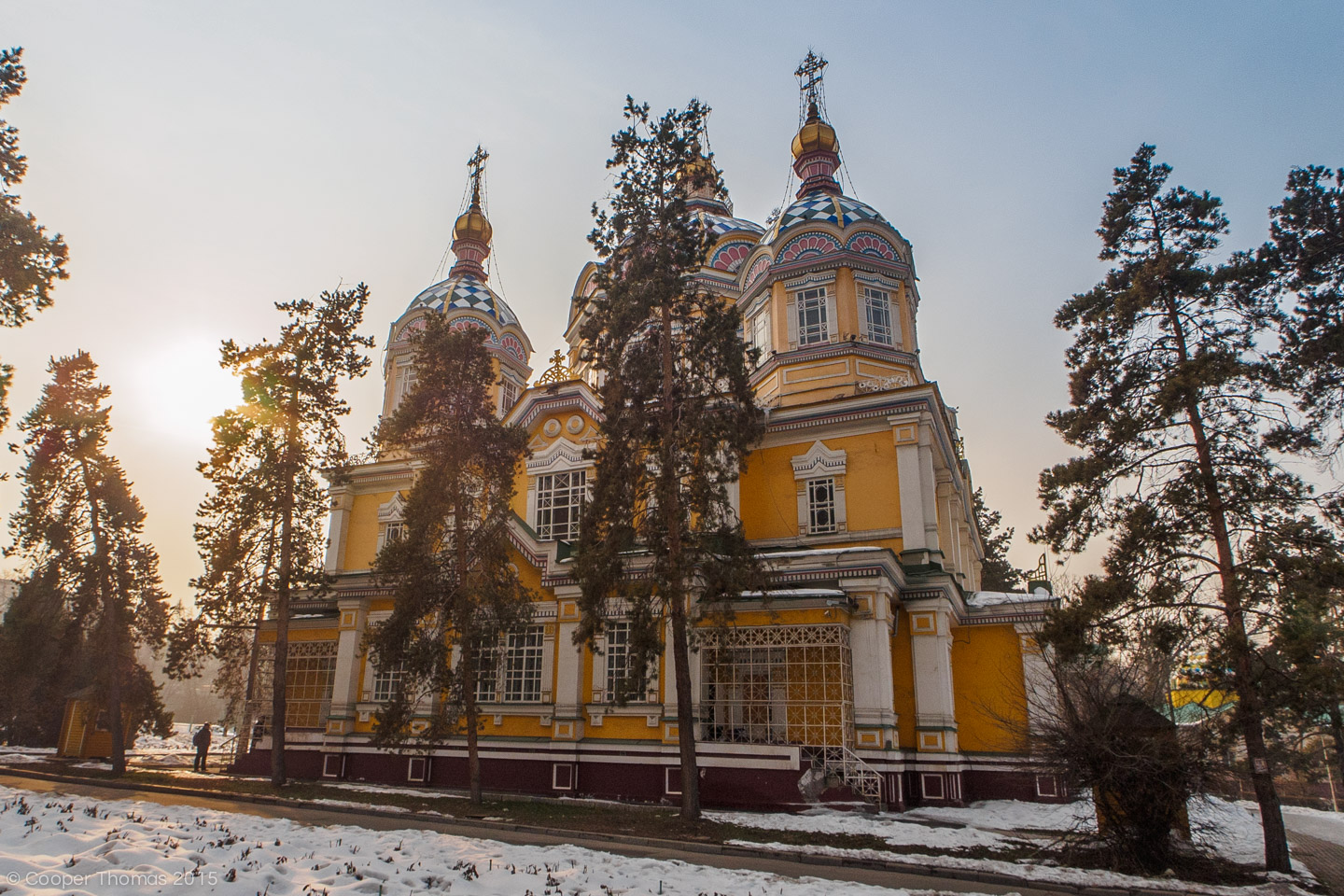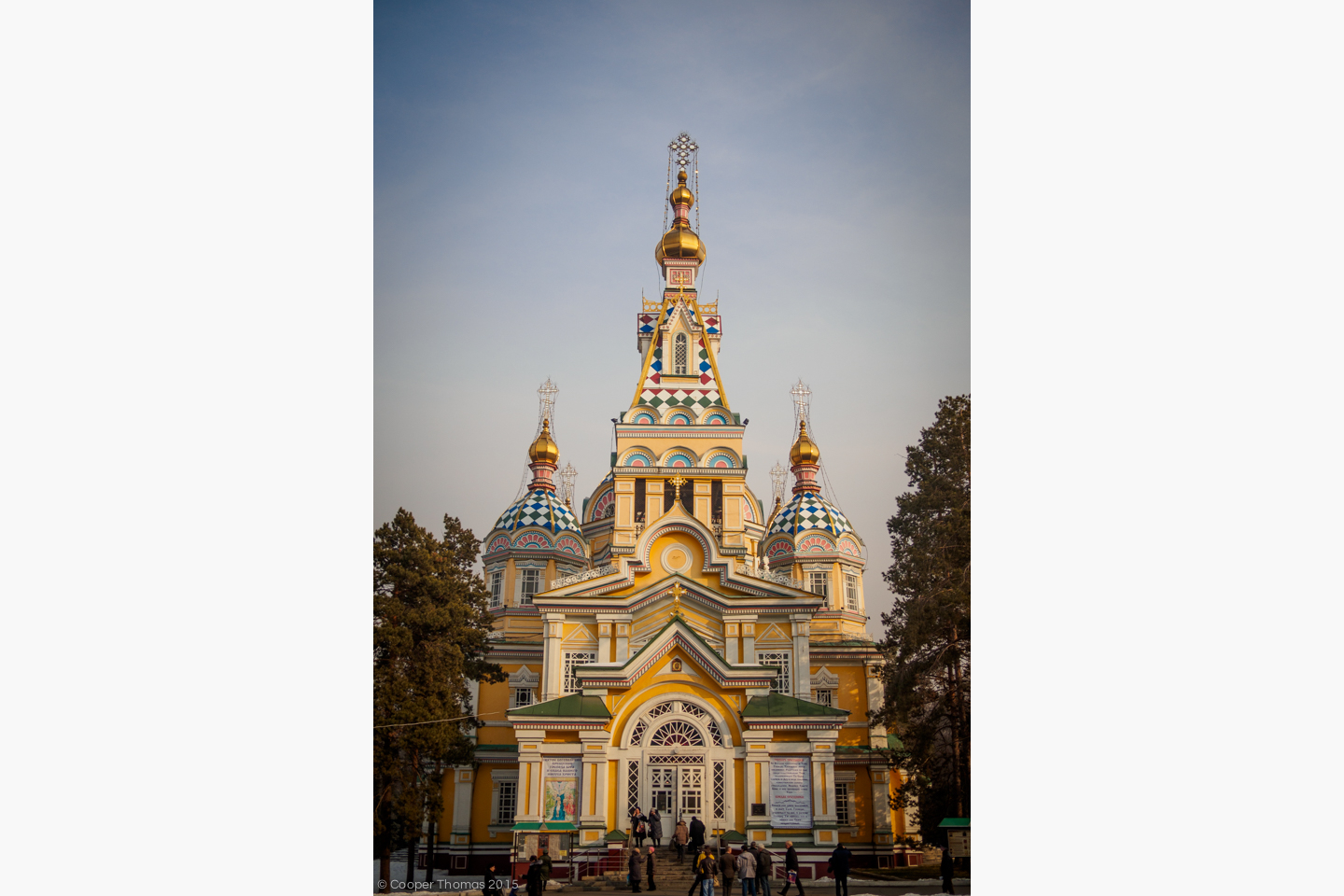 Some residents complain that these developments have eradicated the city's character, and compromised its fundamental identity. Indeed, while Bishkek is positively teeming with life and activity – as one might expect from a city with a population double the size of its expected capacity – Almaty always feels slightly empty. There are no curbside vendors peddling snack baggies and cigarettes, no marshrutkas barreling around corners and honking insistently, no cheap cafeterias where workers might enjoy a hot meal for $2. Of course, the farther you venture from the city center, the more Almaty begins to resemble the colorful provincial towns of Central Asia. But the heart of the city feels somewhat, well, soulless. In the words of one friend, if Almaty is the big city – orderly and efficient – then Bishkek is the Wild West. And frankly, I prefer the chaos of the latter.